GCam for the Poco X3 Pro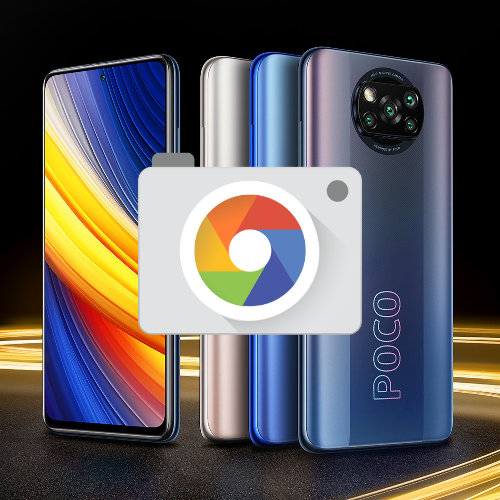 The Poco X3 Pro is without a doubt one of the best affordable phones released in 2021. It packs a powerful Snapdragon 860, a big battery, and 3 rear cameras (48MP main, 8MP ultra-wide, 2MP macro) and a 20MP frontal one.
While the specs are there, Xiaomi's photo processing still lacks a bit and like previous phones, many decide to use a Google Camera mod and the good news is that GCam is available and works well on the X3 Pro, both with MIUI and custom ROMs.
Many versions work on this phone, but on this page we'll list stable versions for the Poco X3 Pro.
Download GCam:
If in doubt, just use the first apk listed below.
To avoid issues when viewing pictures from inside GCam, install the Google Photos app (no need to login).
If you have never installed GCam and need help, watch this video.
Google Camera 8.x (Stable, Android 10+) »

Based on Google Camera 8, which introduced a new design.

8.1 by BSG:

More than one apk (package name) is available. Simply install the first one. The others may be useful if you want to have more than one GCam installed side by side.

8.2 by Greatness:

Any apk should work.
Google Camera 7.x (Stable, Android 9+) »

Two different solutions based on GCam 7:

GCam 7.3 by Urnyx05:

This is one of the most popular GCam 7.3 known for its simplicity and stability.

GCam 7.4 by Nikita:

GCam 7.4, based on work from Arnova8G2, BSG, and other modders.
Bugs and other notes:
Overall, GCam works well on the Poco X3 Pro.
Let's start with the photo resolution. It limited to the binned resolution as Xiaomi doesn't allow 3rd party apps to access the full resolution. This only affects the sensors that use pixel binning technology (front and main rear). 48MP is limited to 12MP and 20MP is limited to 5MP (same as the stock camera, by default).
Long exposure is available, so (if it's dark enough) you should be able to take 4-5 minute long exposure photos with Astrophotography. Other photography features like Portrait mode is also available.
Regarding video, it works, but stabilisation might be better on the stock camera. Slow motion will also be better on stock. Not all is bad though: depending on the camera, you might be able to get higher frame rate with GCam, and time lapse and cinematic pan are available.
You don't have to root or install any fixes to use all main sensors. The depth sensor isn't used, but that won't affect GCam quality.
As with all other phones, GCam uses the Google Photos app as the default gallery. While most GCam mods allow you to use a different gallery app, it's recommended that you keep Google Photos installed (no need to login) as it handles the processing delay well and is able to view motion photos.
Useful links:
Reasons to use GCam:
The reason GCam ports are popular is that often it can take the existing hardware further than the stock camera app. GCam shines in low light, for example, and it's very good a merging the multiple frames taken by HDR. On top of all this, you also have features like Astrophotography, Night Sight (night mode), Portrait mode (blurs backgrounds), Timelapse mode, etc.
For custom ROM users, GCam is often way better than whatever app is included by default. This is possible because processing happens inside the app and doesn't require any system libraries or features to improve quality.
With this said, it's still a modded application and it may have some bugs. The focus on detail may also not please everyone, especially those who like very soft pictures. You'll have to test and see if GCam is for you or if the stock camera on the X3 Pro is the right app to use.