GCam for the Poco X3 NFC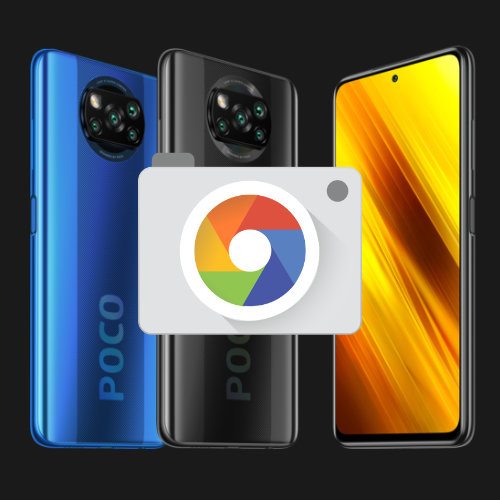 On this page you'll find stable versions of the GCam mod for the Poco X3 NFC, which is powered by the Snapdragon 732G and features a Sony IMX682 64MP sensor as the main rear camera, with a 13MP ultra-wide and a 2MP macro cameras also available.
Mods will bring features like Portrait, Night Sight, Astrophotography, and Timelapse to this phone, not to mention the improved detail and performance in low light.
Like other Poco devices, Google Camera ports work on the X3 NFC without root. Just install, load a config, and enjoy the improved quality!
Download GCam for the X3 NFC:
If in doubt, just use the first apk listed below.
To avoid issues when viewing pictures from inside GCam, install the Google Photos app (no need to login).
If you have never installed GCam and need help, watch this video.
Google Camera 8.x (Stable, Android 10+) »

Based on Google Camera 8, which introduced a new design.

8.1 by BSG:

More than one apk (package name) is available. Simply install the first one. The others may be useful if you want to have more than one GCam installed side by side.

8.2 by Greatness:

Any apk should work.
Google Camera 7.x (Stable, Android 9+) »

Two different solutions based on GCam 7:

GCam 7.3 by Urnyx05:

This is one of the most popular GCam 7.3 known for its simplicity and stability.

GCam 7.4 by Nikita:

GCam 7.4, based on work from Arnova8G2, BSG, and other modders.
Additional notes:
As in most phones, 3rd party camera apps (including GCam) can not utilize the full sensor resolution on sensors that use pixel binning. This means that cameras like the 64MP rear main camera is limited to 16MP (64/4=16). This is the same resolution used on the MIUI camera by default.
Features like Portrait mode, Night sight, Astrophotography, Timelapse, etc, should work fine.
All cameras work without root and with most (all?) package names. The depth sensor isn't used as GCam does the same, but with software.
Regarding video, stabilisation and slow motion will be better on the stock X3 NFC MIUI camera, but Google Camera might allow you to record higher resolutions and higher FPS which are usually blocked on slower processors. Features like Timelapse are also available.
For users on custom ROMs, you may have to use a fix on some ROMs to enable the extra cameras. Test first, if it doesn't work then try the fixes.
Useful links:
---