How to Load/Save XML Configs
Some GCam versions support import/export of .xml files, allowing users to quickly load the best settings for their phone.
Config files are stored in a folder:
GCam

8

.x: /GCam/Configs

8

/
GCam

7

.x: /GCam/Configs

7

/
GCam

6

.x: /GCam/Configs/
⚠️ This folder must be created manually using a file manager or automatically by saving your config.
The top folder, /GCam/, must be created on the same level as the DCIM, Downloads, etc, folders. Example: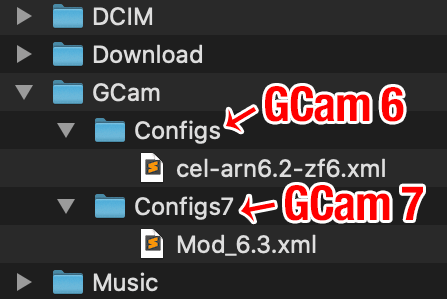 How to load/import settings »

To load a config file, move the .xml file to the configs folder, open Google Camera, double click the dark area around the capture button, select the config, and then click on "restore". Sometimes you have to do it twice.

If GCam restarts, it means that the config file has been loaded.
How to save/export settings »

To backup your settings, use the option available in the settings menu. Please note that some versions hide it under "advanced settings" (check the "About" page).

Your configuration will be saved in the configs folder with the name you gave it (eg: myconfig.xml). This file can be used on other GCam versions that support this feature and have similar settings. You can also share it with other users.
Which config am I using »

You need to remember which config you loaded as the loading window only displays the available configs, not which one is "active".
Use cases »

This can be used for a few things. For example:

Quickly switch between the best settings for low light and day light;
Use recommended settings from devs/other users for your phone;
Move between versions without losing your settings;
Keep unstable features enabled on one config but disabled on another;
etc;