GCam for the Infinix Note 30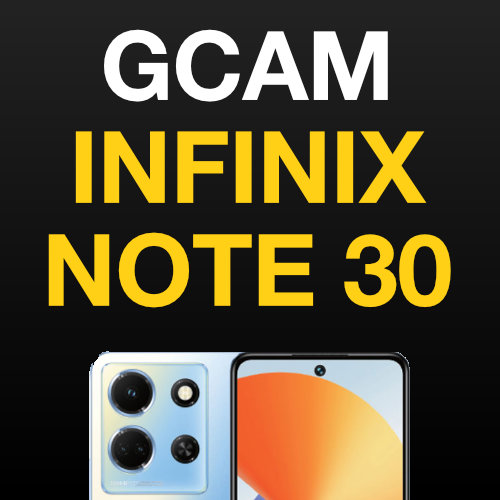 Infinix is known for making affordable phones with interesting hardware, but one area where they are lacking is the camera quality. Sometimes the camera sensor itself isn't bad, but their software processing is and that's why many look to Google Camera mods to improve their photos.
In this page we'll list some GCam versions that work on the Infinix Note 30, a phone released in 2023, powered by the Helio G99 processor and featuring a triple camera setup. We'll also list some workarounds for some limitations.
Download GCam for the Note 30:
Unfortunately most Infinix phones (including the Note 30) don't come with the "camera2 api" or RAW enabled. Google Camera relies on this API to connect to the cameras and get a raw, unprocessed image. Without it, GCam doesn't work.
Essentially, out of the box GCam doesn't work on the Note 30, but there are some alternatives:
Google Camera Go:
Often called "GCam Go", this app is an alternative camera app from Google made for low end devices. It doesn't need the camera2 API, so it works on Infinix Note 30. The downside is that its processing isn't as strong as regular GCam, so pictures won't look as good. Still, it might be better than the stock camera app.
Some versions you should try:
More versions here: Camera Go Mods
Regular GCam with ROOT:
This is only for advanced users that know how to unlock and root their phones. There are dangers of doing this, so it's certainly not for everyone. Unlocking usually means that some apps (eg: banking) stop working, in some countries makes you lose your warranty, and there's some risk of bricking your device.
Still, if you're comfortable with this, there's a Magisk Module that you can flash. It will enable what's needed for normal GCams to work:
I highly recommend joining the Telegram group for this phone, not only to see if there are updates for the modules, but also for discussion about which GCams work best on the phone:
After installing this module, you can install and test different mods. One of the popular options are versions from Hasli. For example:
You can check Hasli's page for more mods and also try some of the stable versions, as they are known to work on many phones.
Open source alternative:
If GCam Go isn't good enough for your needs and you can't/don't want to root your phone, give Open Camera a try.
Open Camera is open source and free. It has a HDR option that might help in low light conditions and video recording works well. It might be a good alternative to the app that comes with your phone:
Conclusion:
So overall this isn't the best phone to buy if you want to use the Pixel camera due to this artificial limitation that Infinix has, but you can get some of that processing "magic" with GCam Go.
The popular GCam only works if you have a rooted device, which is a bit of shame. Still, the option is there for those that can use it.
---