I use two phones. The main one is the 2019 Asus Zenfone 6, a mid-higher range device with fairly good specs sold at a lower cost, and an old OnePlus One as a backup/secondary device. The OnePlus One reached end-of-life a long time ago, but I kept it running with LineageOS (Android 9), root, and some tweaks to make the battery last longer.
While it still works, it's becoming slower, the battery doesn't last as long, and custom ROMs are becoming buggier with each major Android update, so I decided to replace it with something that can handle messaging, phone calls, navigation, the occasional photo, etc. I don't play games or do anything special with it, so there's no need to spend a lot of money.
I could just get a Nokia or Samsung from a local phone store, but I want to be able to root and use custom ROMs, so these two brands were automatically excluded (they are not "dev friendly"). Brands like Realme and Xiaomi (Redmi, Poco, etc) have attractive hardware and good prices, but software updates are bad on Realme phones and Xiaomi makes money by showing ads and selling their services. After some thinking, I reduced my list to two phones: OnePlus Nord and Google Pixel 4a.
The Pixel 4a might seem an odd pick here as the Nord has better hardware, but software updates, features, and official Google Camera support makes it an attractive phone to me. Sadly, the 4a won't be available right away, leaving the Nord as my only option.
This is my opinion about it, with focus on the camera and other areas I think are important.
Content: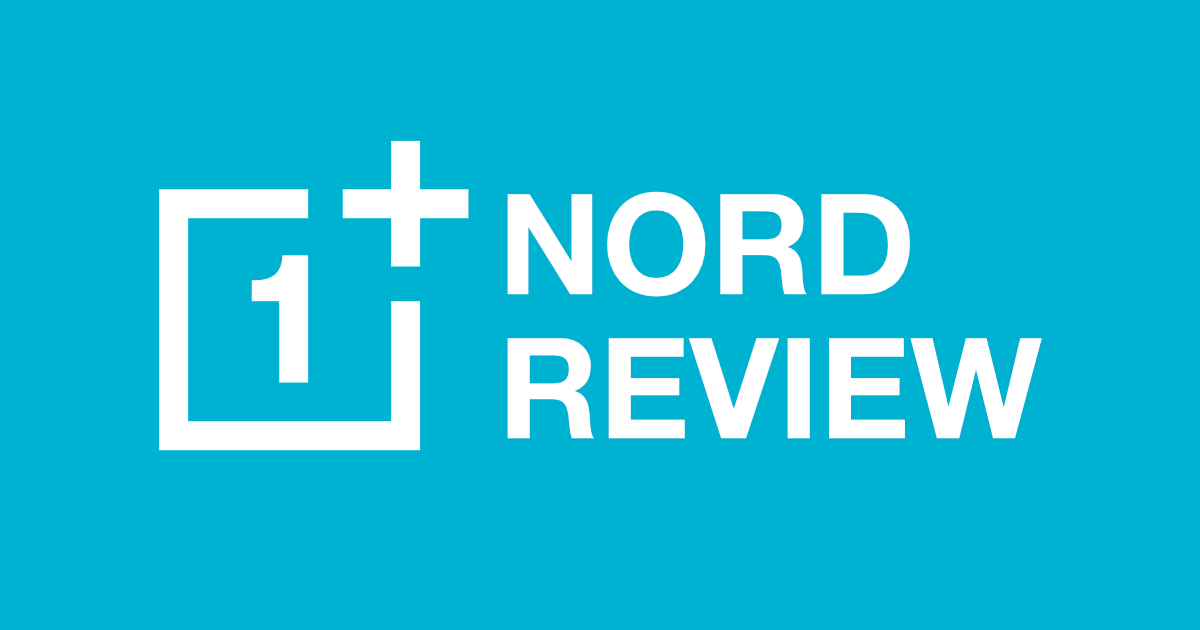 Inside the box:
OnePlus Nord (Gray Onyx aka Dark Grey), 128GB of storage, 8GB of RAM.
Transparent case and screen protector (pre-applied).
USB cable (1 meter, red) with type C on one end and type A on the other.
30w wall charger with Warp Charge support. USB-A port.
SIM tray remover pin, some stickers, quick start guide, and safety info.
A Nord branded bag, which I'll not use.
Flagship camera? Not even close
I'll start with the camera because it's something that I will use. I don't take too many pictures or record too many videos, but when I do, I want it to have good details, dynamic range, etc. I'll talk first about OnePlus' own camera – which is what most people will use – and then look at GCam.
In a few words:
Both the main front and back facing cameras are capable of taking good pictures, but you may have to take more than one picture to get that one good picture.
Wide cameras are "okay" in good light conditions, but subpar in low light. They are not as good as the main cameras, there's more noise, and the sometimes aggressive noise reduction makes pictures less detailed.
Macro is useless. Terrible quality, a waste of money and space. I'd rater use the main camera.
Video is fine for this price range. Slow motion seems to be a bit pixelated.
Two of the back cameras are only there so they can say this phone has 4 cameras. In practice, we'll only use two: the main and wide cameras. Macro mode uses a 2MP sensor which creates photos with very low quality. The 4th camera is a depth sensor and I'm not sure if it's used (I see no difference when it's covered).
OnePlus picked the popular Sony IMX586 sensor for the main camera. It's used on the OnePlus 7 series, OnePlus 8, my own Zenfone 6, and many other phones from 2019. It's promoted as a 48MP sensor, but since quality is bad when light conditions aren't perfect, everyone uses 12MP (pixel binning) by default. So this means good photos? Yes, but only sometimes.
One improvement over my Zenfone 6 is OIS (Optical Image Stabilisation). The ZF6 only has EIS (Electronic Image Stabilisation) while the Nord has both. Since most of my pictures are hand held, OIS helps reducing blur.
As you'll see below, OnePlus' stock camera lets the hardware down sometimes. I know it's a software thing because third party software can do better with the same hardware. Their app is not as consistent as other cameras I've used, sometimes struggles with movement and while I'm able to take good pictures, I don't know what I'll get next. Some pictures look good and some are blurred or have a terrible dynamic range.
You won't find Google Pixel-like consistency on this phone.
Stock App Photos:
Click on the picture to open the full size file.
Back cameras.
I took this outdoors, around 3 o'clock on a sunny day. Some notes:
Colours are way more saturated than I'd like. Look at this example (GCam on ZF6, same main sensor) for what colours should look like.
Black crush. The darker area in the middle of the picture is way too dark.
I'll let you zoom in and see if the detail and processing is good or not.
I walked a bit and took 3 more pictures. Main 12MP, Main 48MP, and Wide.
Colours look better here, but it seems that the image processing is worse than what I'm used to. Ghosting on moving objects, different colours, clouds look like a painting, etc.
I don't want to be too harsh because the Nord doesn't have a flagship price, but unlike OnePlus, I wouldn't call it a "flagship camera".
A few more pictures, in case you want to check them out:
"Pro" mode (without HDR). I'm sure it can take better pictures, if the user has the time and patience to use this mode.
Panorama:
Front cameras.
I don't use the front cameras often, so I didn't test them as much as I did the back cameras.
There are two front cameras. The main one uses the Sony IMX616, a 32MP sensor (8MP with pixel binning), while the wide camera seems to be some inferior 8MP OmniVision sensor (not listed on OnePlus' site). This may change in the future, but right now, the stock app saves 32MP photos in normal mode instead of using pixel binning (8MP) like they do with the main rear camera (12MP instead of 48MP).
First, let's look at the normal camera mode. It was sunny, hot, I was wearing a mask and sweating… but should give you an idea.
OnePlus' camera sometimes overexposes the image. The wide camera distortion also enlarged my chest [ ? ], but I guess that's to be expected with wide cameras (the lens correction option was enabled).
Portrait mode didn't overexpose the picture in this case, but sometimes it does. Edge detection isn't perfect – it blurred my headphones on a different test – but works fairly well on well lit places.
From the front cameras, only the main camera can be used (why?) and it saves 8MP files, not 32MP. On the back camera, you can choose between the main and wide cameras. Interestingly enough, both rear cameras save 12MP files even though the wide camera only goes up to 8MP… maybe there's some stretching involved.
I don't have indoor shots to share, but performance is what I would expect from OnePlus. They smooth things way more than I'd like, there's a lot of noise reduction, white balance isn't always good (sometimes it can turn photos yellow), and they seem to struggle with movement (eg: kids moving around).
Google Camera:
One of the reasons why this phone made it to my list was the modded Google Camera app. It's not as good as using it on a Pixel, but it helps a lot.
Photo quality has been a weak point of OnePlus devices from the start. They always claim to have good cameras, but my experience is the opposite. Maybe it's because I don't spend my days inside a studio, don't carry a tripod with me, or take pictures indoors? Real improvements only arrived with the OnePlus 8 Pro line – which costs as much as some flagships from Samsung, Google, and Apple – but consistency is not there yet. The Nord also doesn't benefit from said improvements.
The good news is that GCam works on the OnePlus Nord, but with limitations. Without root:
Resolution limited to the pixel binned resolution (12MP on the main rear camera, 8MP on the main front camera).
Only the main front and main back cameras work. No access to wide or macro.
Not being allowed to use the auxiliary cameras is especially annoying. OnePlus employees have recommended GCam on their forums before and it's an easy fix (add GCam's package name to a file). They did this on the OnePlus 8 Pro, but it's still a problem on the 8, 7/7T series, and the Nord. Maybe it's something that they'll fix in the future, but if GCam is important for you, I can't tell you to buy the phone when I don't know if they'll do this or not.
Everything (all cameras and 48MP) works on my Asus Zenfone 6 without any fixes, so it's disappointing to see these limitations on the Nord. No idea why OnePlus keeps screwing this up.
If you're rooted with Magisk, a module is available:
Cameras available: back main, wide, and macro; front main and wide.
Only binned resolutions are available (12MP, not 48MP, for example).
Samples.
Some people are working on bringing a better GCam for the Nord as I write this, but it's not yet ready. For this test I used an older GCam 7.3 which works partially on the Nord. I only tested the main front/rear cameras and used a config for the OnePlus 7 series. It's not optimised for this device yet, but I felt it was good enough for testing.
Overall, colours on GCam are more realistic than OnePlus stock camera. It also improves the front camera a lot, increases detail on objects close to the camera, deals better with movement, and handles dark areas differently.
Please note that the following pictures were taken on a different and less sunny day than the pictures above.
Let's start with some flowers. GCam wins in detail and colour accuracy:
When the stock app manages to find the right exposure and doesn't mess colours up, it can take pictures with similar quality to GCam. Saturation, contrast, level of detail, and other parameters can be changed in GCam to suit one's taste, while the stock app offers less control.
For the front camera, the stock camera struggled again with the brightness. GCam is the clear winner here, but it was really sharp. This is caused by the config I used and can be easily fixed.
Portrait Mode. I forgot to disable the zoom on GCam, but it doesn't affect the image quality. GCam sometimes struggles with masks.
Indoors, just after sunset. Stock is brighter and less detailed. GCam is more detailed and darker/closer to reality. The less light you have, the smoother pictures from stock are. They're brighter, but less detailed.
In low light, the results were interesting. OnePlus camera doesn't handle movement as well as GCam, but it's not that bad for stills. White balance if often better on GCam, with stock sometimes making pictures too yellow.
Then I turned off the light and tested with just the light coming through a window. While it's still in normal mode, I noticed that the stock camera was using some low light mode that takes a few frames with different exposures.
And finally with the slower night mode. "NightScape" on the stock camera and "Night Sight" on GCam:
I also tested both apps with a tripod. This is the main photo mode:
Night modes ("NightScape" vs "Night Sight"). GCam is darker, but quality is better in my opinion.
The OnePlus Nord camera app doesn't have an "Astrophotography" mode, so the following two pictures are from GCam. Total exposure time between 2 and 3 minutes on a tripod.
I live in a city and the light pollution (and clouds) makes it hard to see any stars, but GCam is still able to take interesting pictures.
Some useful links for GCam users:
Video:
I've recoded a few videos with both the Nord and Zenfone 6. The Nord has OIS and EIS, while the Zenfone 6 only has EIS. Both phones were hand held. The files below were compressed to save bandwidth and make sure they are compatible with most devices, but they're still high in quality (original files available here).
Some notes:
Quality and stabilisation is good for a phone in this price range.
"Super Stabilisation" works only at 1080p 30fps and 4k 30fps. Sometimes movements don't feel natural, so I only use regular stabilisation.
I've noticed that stabilisation sometimes makes the viewfinder lag a bit, but that doesn't seem to affect the final result.
The main back camera supports up to 4k 30fps, while the front camera supports 4k 60fps. Both sensors support 4k 60fps and the processor/SoC is fast enough to support it on the front camera, so I don't know why the rear is limited to 30fps. GCam can record at more than 30fps.
Video: Rear Camera.
Nord, 1080p 30fps:
Zenfone 6, 1080p 30fps:
Nord, 1080p 30fps:
Zenfone 6, 1080p 30fps:
Nord, 1080p 60fps:
Zenfone 6, 1080p 60fps:
Nord, 1080p 60fps:
Zenfone 6, 1080p 60fps:
Video: Front Camera.
I didn't make a side-by-side comparison for the front camera because the Asus Zenfone 6 uses the main rear cameras for everything (flip camera) and it wouldn't be a fair comparison.
Nord, 1080p 60fps:
Nord, 1080p 60fps:
Nord, Slow Motion:
Screen: Good, but with a flaw
The Nord comes with a 90hz, 1080p OLED display, has a cutout for two cameras, and the fingerprint scanner is hidden underneath the display.
90hz: It's a noticeable improvement over a 60hz display and certainly helps this phone feel smoother than a more expensive 60hz phone when scrolling.
OLED: I'm fine with it, it's better than LCD in some areas. It's way better than the LCD used on the OnePlus One it's replacing.
1080p: It's enough for me. I don't want a 4k display if all I get is a small improvement in detail and higher battery drain.
Camera cutout: I think it would look better if it was centred or if they used a small notch or pop-up/flip camera, but it's not a problem. I started ignoring the cutout after a few hours of use.
Fingerprint Sensor: No complaints so far. It's an optical sensor, so it needs light to "scan" your finger, but only the area under your finger is lit. I can't see the cutout underneath the display under normal usage. It seems that optical sensors are less secure than ultrasonic and capacitive sensors, but should be secure enough to stop the average person from unlocking your phone.
Pink / Green tint
There's a small problem… my unit is one of the many that shows a pink/green tint on parts of the display at very low brightness (under ~30%). It's visible mostly when it's displaying something dark grey. This issue has been reported on reddit, XDA-developers, Twitter, and OnePlus' own forums. It affects the OnePlus Nord and the 8 series.
This photo shows the issue, but exaggerates the pink. It's bad, just not this bad. At the lowest brightness possible: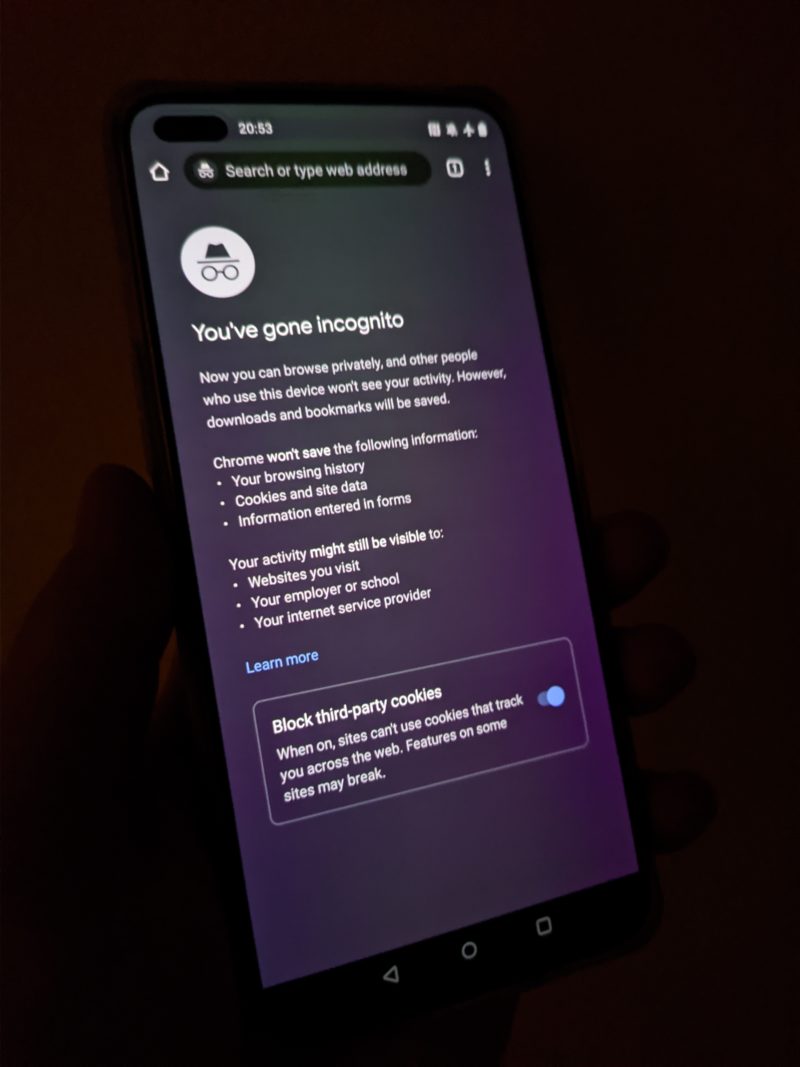 The official response is that this is not a problem, but they're working on a software fix that should improve the "non problem". Be it bad calibration, bad quality control, low tier displays or a simple problem that can be fixed via a software update, this is not acceptable. Keep in mind that their flagships are also affected, not only the Nord.
I have no idea if the OTA update will come or if they're able to fix the problem completely. As someone that used their phones and followed them closely between the OnePlus One and 5T, I'd say this problem is here to stay. But some say OnePlus has changed… I hope they are right.
I don't plan to return my unit because of this issue as I rarely use it in the dark, but beware that you may get a phone with this problem.
Performance and battery life: Good enough for me
I was a bit worried about performance and battery life, but it turned out to be fine.
Performance
The Nord is powered by a Snapdragon 765G. Its performance is comparable to the Snapdragon 845, the SoC used by many flagships in 2018. It's not the fastest processor out there, but Samsung is selling flagships with the Exynos 990… which is not that faster than the 765G.
So far I'm pleased with the performance and it doesn't feel like a slow phone at all. The display is partially to blame for this. If I spend a lot of time using the Nord and then go back to my Zenfone 6, the lower refresh rate makes it look laggy. Obviously it's a faster phone than the Nord and I notice that when doing something CPU heavy (eg: Syncthing indexing heavy files), but for things like scrolling, opening the keyboard, app opening transitions, etc, if feels faster.
I should note that I don't use my phone like many people do. I usually don't play games – specially on my 2nd device – and I care more about real world usage than about benchmark results. If it's fast at browsing the web, if Telegram, WhatsApp, Signal, email client, and Google Camera are fast, if there's almost no lag, then it's fast enough for me. GCam processing can be very demanding and I'm seeing similar speeds to my ZF6 with a Snapdragon 855.
You'll have to look somewhere else for info about gaming. According to many reviews, this phone is able to run heavy games like PUBG, albeit at a lower FPS than current flagships. Only you know if this is acceptable or not.
Battery life
The 5000mAh battery on my Zenfone 6 spoiled me. After years using a power bank because my previous phone (OnePlus 3) couldn't last the whole day, the more efficient SoC and the bigger battery allowed me to stop worrying about how much battery I had. I don't see myself going back to a device with a small battery.
I'm very pleased with the battery life on the Nord. With (my) heavy usage, I end the day with 20-30% left. Compared to my ZF6, it has a smaller battery (4115mAh vs 5000mAh) but the slower 765G seems to use less energy.
Charging
The Nord supports Warp Charging. As far as I know, it's the same VOOC technology used by OPPO, but rebranded. It's a continuation of the Dash Charging used by older OnePlus phones.
Using the 30w charger and cable that comes with the phone, it takes around 30 minutes to go from 5% to 60% and 1 hour to reach 100%. Like other phones, speeds start dropping after 80%, meaning that it will take longer to charge those last 20%.
OnePlus doesn't mention USB-PD support anywhere, but it works. I tested with an Apple 96w charger and a generic 61w charger at 50% battery. Apps like Ampere, which are not very accurate, report 3600mA and Android reports that it's "charging rapidly". It's slower than Warp, but better than being stuck with slow speeds.
If you slow charge over night, OxygenOS now supports a feature that phones from Asus, Sony, etc, have supported for years and helps reducing battery wear when the device is plugged in for hours:

OxygenOS: Clean and fast, but bloat is creeping in
OxygenOS is a good choice for users like me that like clean Android. It's simple, doesn't overload users with lots of settings and features, uses a minimal skin, and offers basic customisation. In this regard it's similar to the stock ROM on the Zenfone 6 and custom ROMs like LineageOS.
The only thing I'd like to see on more phones is a skin that follows Samsung's One UI philosophy of having UI elements closed to the bottom of the screen. As phones get taller, it's nice to be able to reach everything with one hand.
App bloat
OnePlus now pre-installs apps like Facebook, Facebook Messenger, Netflix, etc, depending on the location we choose during the first setup. Some of these apps can be uninstalled while others can only be disabled and return after a factory reset.
I tested it twice and if I choose English (US), it installs Facebook, Messenger, and Netflix. With English (UK), only Netflix is installed. Sadly it can only be disabled, not uninstalled.
Some people noticed that these apps can be removed using ADB (commands for Facebook here), but it's disappointing to see OnePlus doing this on their new devices (including flagships).
Other Stuff
GPS: Fairly accurate, with support for GPS (US), Galileo (EU), Glonass (Russia), Beidou (China), and NavIC (India). I saw satellites from all 5 services while testing.
Speakers: There's only one at bottom and it's loud. The ear piece isn't used.
Vibration motor: It's no Apple's Taptic Engine, but I've seen way worse. The vibration pattern and strength can be changed.
No complaints about voice quality during calls.
5G: I wasn't able to test this as my carrier doesn't support it yet.
Supports 2 SIM cards, the tray is at the bottom, next to the USB-C port.
There's no headphone jack and OnePlus doesn't include an adapter in the box.
There's a software option to hide the camera cutout, but creates a fake bezel that looks like the Pixel 4. I don't like it.
No SD card slot. The base model comes with 128GB of storage (around 100GB usable) and 8GB of RAM. I'm not sure if the 256GB/12GB variant is worth the extra cost.
It uses USB 2.0, don't expect super fast transfer speeds. Not a problem for me because I use Syncthing/WiFi to transfer files.
It's made of plastic and (gorilla) glass. It doesn't feel like a cheap phone, but you can tell that it's not a flagship.
Final words
Overall, I'm pleased with the Nord. It feels good on the hand, has good battery life, performance is enough for my usage, and I think OnePlus made cuts in the right areas. The only complaints I have are the camera quality – which I plan to minimise by using GCam – and the screen pink/green tint problem that affects the Nord and some of OnePlus' flagships.
OnePlus' decision to install crapware on their products is a bad one. Not allowing the average user to uninstall these apps just adds insult to injury and they deserve every bit of bad press they're getting.
While I'll keep using my Zenfone 6 as primary device, I could see myself using this phone for everything. I feel that laptop and smartphone technology has reached a point where a mid-range is enough for most users. A few years ago, we had to buy a phone with the best SoC available just to avoid lag. Today, a Snapdragon 7xx is able to compete with a flagship SoC from 2 years ago.
It's getting harder for me to justify the hundreds or thousands that flagships cost when cheaper, but still capable phones exist. The OnePlus Nord, Pixel 4a, iPhone SE, and other similar devices give us a lot at half the price.
This was my first review of a phone. I was not paid by anyone to write it.
Feel free to leave any suggestions in the comments or ask questions about the Nord.
Fin.