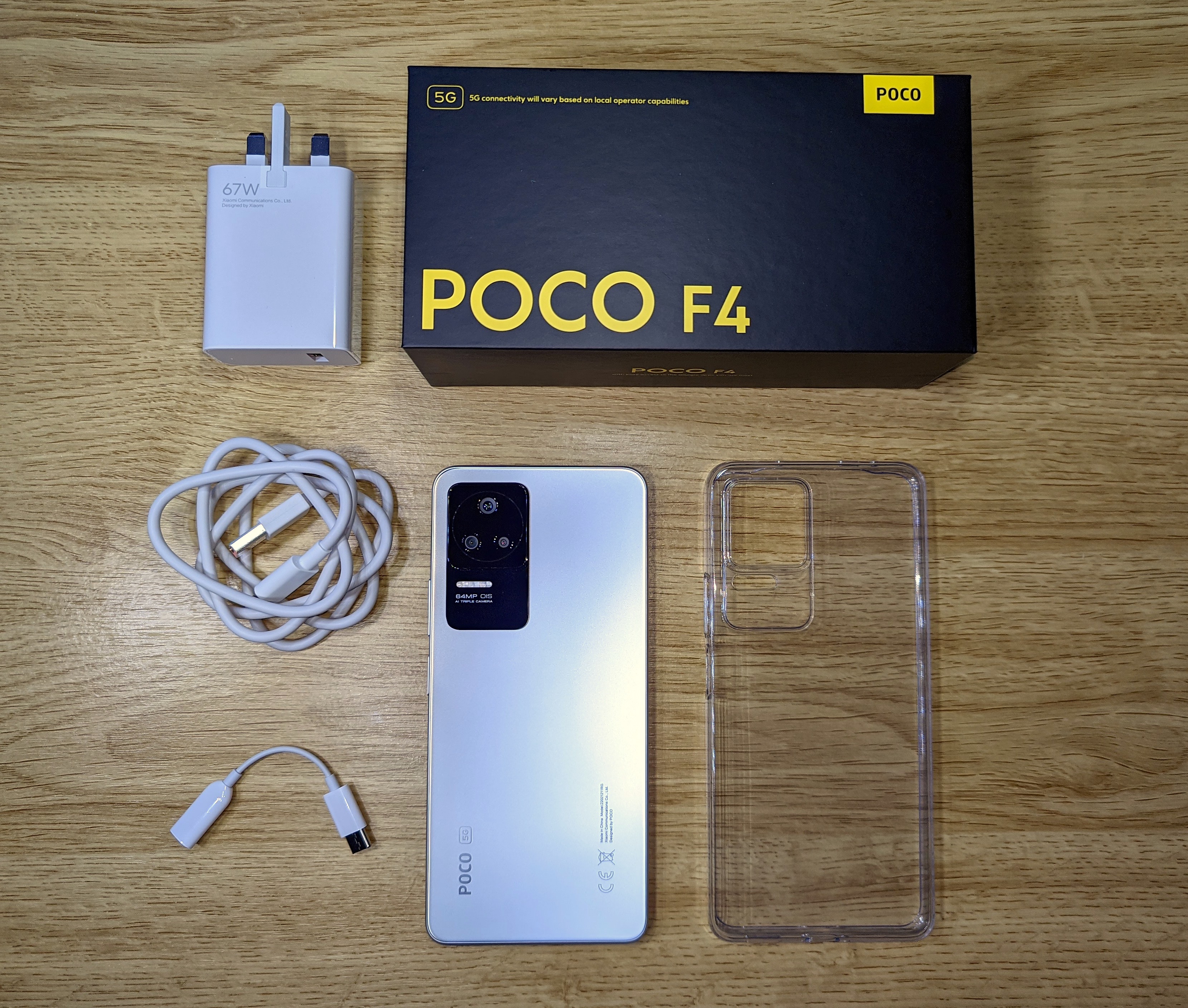 What's in the Box
Poco F4 "Moonlight Silver", 6GB+128GB, pre-applied screen protector.
67W USB-A charger.
USB-A to USB-C cable.
USB-C to 3.5 mm headphone port.
Clear case.
SIM card remover tool.
The usual paper stuff (quick start guide, warranty notice, etc).
Other notes:
Bought directly from Xiaomi. I paid £229 GBP (around 266 euros or 273 dollars) for it in June 2022.
The phone is running MIUI 13.0.6 Global based on Android 12.
Out of the box, after the Play Store/Xiaomi updates installed apps and before uninstalling bloatware, there's around 100GB of space free on this 128GB variant.
Why did I buy this phone
I use two phones. The main phone is usually the best one (best camera, faster, etc). That's where I have my main SIM card, banking apps, etc. The second phone is more of a "fun" phone. If I want to do a timelapse, create a wifi hotspot on the go, test a new Android version, a new Magisk version, test GCam, etc, this is the phone I use.
I don't really need a second phone, but this allows me to have a backup for my main phone and important things like 2FA codes. I'm also the guy in my family that buys phones, so when a phone breaks down, they get my backup phone right away. They get a good phone in good condition while paying less (or nothing) and I get to try new hardware. It's a win-win for everyone.
Early in 2022 my mother needed a new phone, so I gave her my Poco X3 NFC. The Poco F4 is the replacement to that phone.
Hardware
The Poco F4 is essentially the F3 with less curves, faster charging speeds, better main camera, and a worse macro camera. It's not a big upgrade if you have the F3, but this hardware at this price makes it a very interesting option for people looking for a "flagship killer", especially in 2022 when some of the updated models from brands like Samsung are actually worse or/and more expensive than last year's versions.
The F4 is made of plastic, but to me it doesn't feel or looks like a cheap phone. Sure, I can tell the difference between a metal frame and this, but it's not like other cheap phones I had before. The glass back with a shiny "3D" paint that changes as you move it probably helps a lot here.
This year they went with a flat design. In practice it doesn't matter that much because I use a case, but personally I think that curved frame edges makes the phone more comfortable to hold than flat edges. On the other hand, I'd pick flat displays over displays with curved edges any time. Again, it's not a problem for me, but could be better if it was a mix of flat display and more of a round frame.
One change that made it easier to pick this phone was the change to the main camera. I'll ignore the change from 48 to 64MP as it doesn't change much in practice, but this time it has OIS (optical image stabilisation), something that helps a lot when taking pictures.
Processor
The F4 is powered by a Snapdragon 870. This is the same chip used by the F3 and a small upgrade over the 865 that powers my main phone (OnePlus 8 Pro). Enthusiasts will probably say that it would be better if they had picked one of the newer Mediatek SoCs, but I plan to use custom ROMs and for that Snapdragon is always better.
Regarding the performance of this phone, it's more than enough for my needs. In fact, the Asus Zenfone 6 (Snapdragon 855) I got in 2019 was already fast enough for my usage. When it stopped working (bootloop after 1 year), I got a OnePlus 8 Pro (Snapdragon 865) and for a while was playing lots of emulated games. Other SoCs will perform better on benchmarks, but I never felt like I needed something faster.
SoCs have improved a lot in the past few years and we've reached a point where you no longer need the fastest thing available to have smooth scrolling or play many of the available games. This isn't the fastest SoC out there and I'm okay with that.
Display
I am very happy with it. It might not be as good as what you find on a Samsung flagship, but it's bright, has good viewing angles, and doesn't suffer (at least my unit doesn't) from the pink or green tint I complained on my OnePlus Nord review, not to mention that it's a 120Hz AMOLED display.
Like other Poco devices before, the bottom bezel is slightly taller than the others, but to be honest, I'm mostly nitpicking here. I never had a phone within this price point with a display this good.
The hole at the top for the camera is centred and around 2.5mm long, which is (and looks) smaller than the holes on the Poco X3 and OnePlus 8 Pro.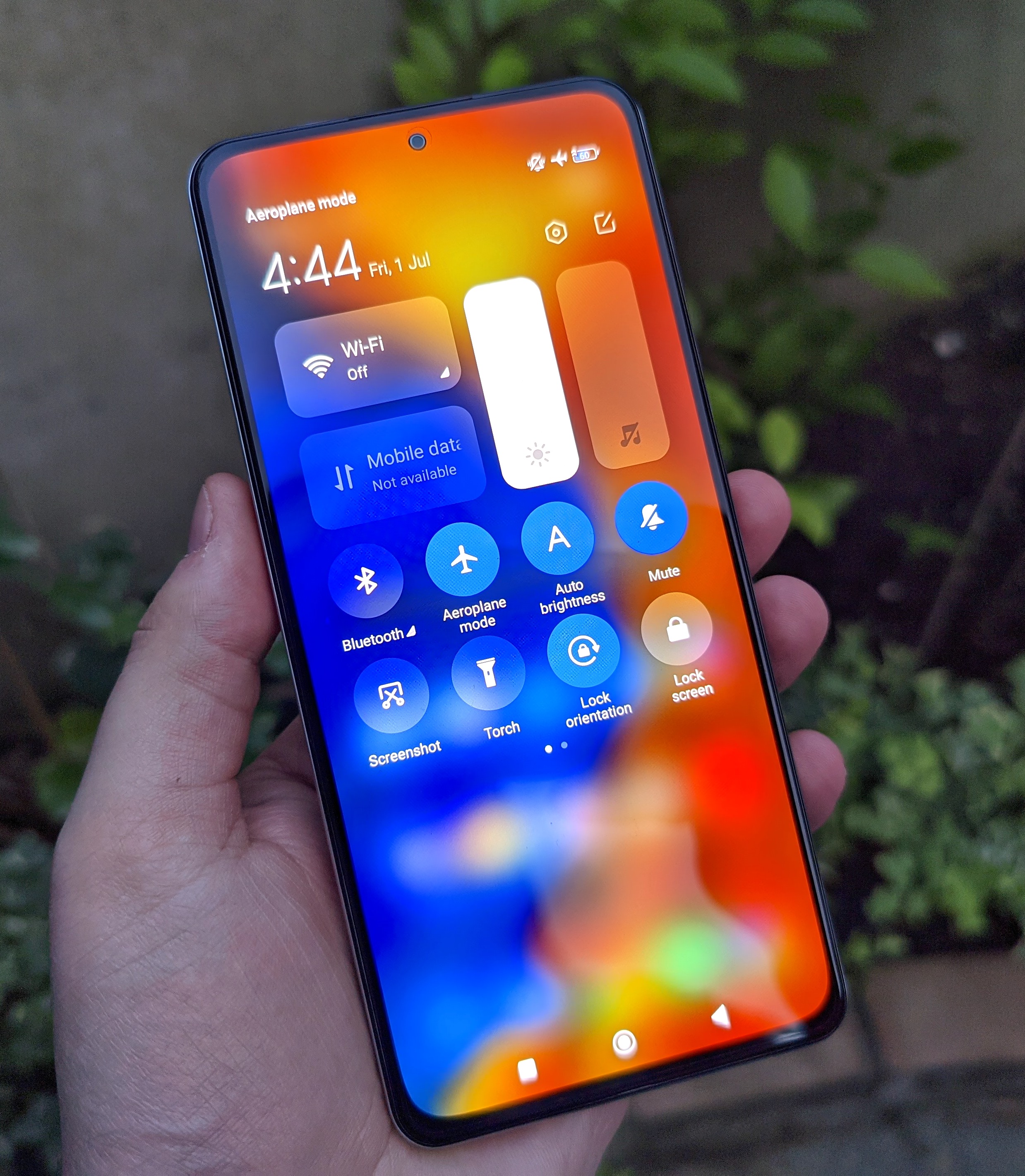 Cameras
There are 3 rear cameras (64MP main, 8MP wide, 2MP macro) and one front camera (20MP). As it often happens when a manufacturer uses "meh" hardware, Poco/Xiaomi don't specify the sensors used in this phone's specs page, but according to the GSMArena review, it's a mix of OmniVision, GalaxyCore, and Sony sensors:
Main camera: "[…] 64MP 1/2″ OmniVision OV64B sensor with a Quad-Bayer filter. The sensor has 0.7µm pixels, and after the 4-in-1 binning, you'd be getting a 16MP photo with 1.4µm equivalent performance. This sensor sits behind a stabilized 25mm f/1.8 lens; it supports PDAF; […]"

Wide camera: "[…] 8MP OmniVision OV8856 1/4″ sensor with 1.12µm pixels. It sits behind a 16mm f/2.2 lens for ultrawide-angle photos. […]"

Macro camera: "[…] 2MP GalaxyCore GC02M1 sensor with f/2.4 aperture lens, and the focus is fixed at about 4cm distance."

Front camera: "[…] 20MP Sony IMX596 1/2.8″ sensor of Quad Bayer design. It is coupled with a 24mm f/2.45 lens, and the focus is fixed. […]"
Knowing the sensor used by the phone is useful for GCam port users trying to find the best settings for their phone. While we can use apps like Device Info HW to find out the sensors used, some phones hide this information. If these bands are happy to mention sensor names when it's a very good/popular one, they should add the sensor name to the specs page. But moving on…
Photos:
If you want to see samples, I recommend checking out GSMArena's review as they've tested the cameras in different conditions. Just keep in mind that not every picture comes out perfect like the ones on their site. In any case, I agree overall with their opinion.
None of these sensors are as good as the best from Sony, but the main sensor isn't bad. You can take very nice pictures with it and the stabilisation helps reducing shaky photos. Since it's a quad bayer sensor, the camera outputs 16MP files (you need to use Pro mode for 64MP).
Sadly, as it often happens with cheap devices, the secondary cameras are not as good. You can easily see difference between the main and the wide camera. It's not terrible especially when there's enough light, but don't expect the same level of detail. And then there's the 2MP macro camera. The quality isn't great anyway, so why not implement the macro mode in software (use the better main or wide camera and zoom in a bit) and instead add a zoom camera since digital zoom sucks?
The front camera is okay, but I personally don't like the face smoothing the stock camera applies by default.
Low light / indoors performance isn't as good. Again, the main camera is better than the rest, but as conditions get worse, you'll get blurrier pictures. I compared it to a Google Camera port (more below) with minimal changes and GCam was better at stacking frames on hand held photos (not as blury) and detail. The night mode performance is also better on GCam (better details, but not as bright).
At this price point we can't expect flagship quality, so I'll say that it's "okay" for regular users and that for advanced users apps like GCam can be used improve quality under certain conditions.
Video:
Some of the early video samples shared online have a focus seeking/stabilisation problem (example), but I can't reproduce that problem. I had a software update when I powered up the device for the first time, so I guess the problem has been fixed.
Like on photo mode, the main camera produces the best quality. You can record up to 4K 60FPS with stabilisation. The wide camera goes up to 1080p 60FPS with electronic stabilisation, but quality isn't as good as the main camera. The macro camera tops at 720p 30FPS and doesn't have any stabilisation. All 3 rear cameras have a "Pro" mode that allows us to control things like the ISO, shutter speed, etc, (and focus on the main camera). The front camera… 1080p 30FPS. It works. The electronic stabilisation could be improved.
In low light, I'd stick with the main camera when possible. The ultra wide is noisy and lacks detail. The front camera starts "ghosting" after a certain point.
Google Camera Ports:
If you use GCam ports, then there are good news. I didn't take the time to optimised all settings, but the basic features work. A quick rundown:
GCam can access all cameras without having to use a specific package name, meaning that we have multiple GCam apks installed without losing functionality.
Since Xiaomi doesn't let 3rd party cameras access the full sensor resolution, on the quad bayer sensors GCam is limited to the binned resolution. The main rear camera is limited to 16MP (64/4) while the front camera is limited to 5MP (20/4). This doesn't affect the wide (8MP) and macro (2MP) cameras.
With some GCam apks, we can record 1080p 60FPS with the front camera. The stock camera app is limited to 30FPS.
Video stabilisation and slow motion is better on stock.
Long exposures works fine. Without changing any settings, astrophotography mode made a 4:06 minute exposure.
I'll keep this page updated with more info: Stable GCam for the Poco F4.
Battery and charging
The F4 comes with a 4500mAh battery, which for me is enough even on a heavy day. Since the screen ON time depends a lot on usage, network signal, screen brightness, etc, I can't say if it's good enough for your usage, but so far it seems to be more or less in line with my OnePlus 8 Pro (same battery size).
It charges very fast with the original 67W charger and cable, maybe a bit too fast in fact. To test, I drained the battery to 5%. It took just 13 minutes(!) to reach 50%, 30 minutes to reach 80%, and 45 minutes until 100% (around 50 minutes to "full").
You may have noticed that it was a bit slow between 50% and 80%. Why? As far as I can tell, it's because of the head generated by these speeds.
I started the test with 5%. The room temperature was around 21ºC and the battery temperature (according to Ampere) was 25.7ºC:
The state of charge reached 10% after 1 minute and 20 seconds, and the device was getting the highest speeds of this charging session. The battery temperature was at 39.8ºC: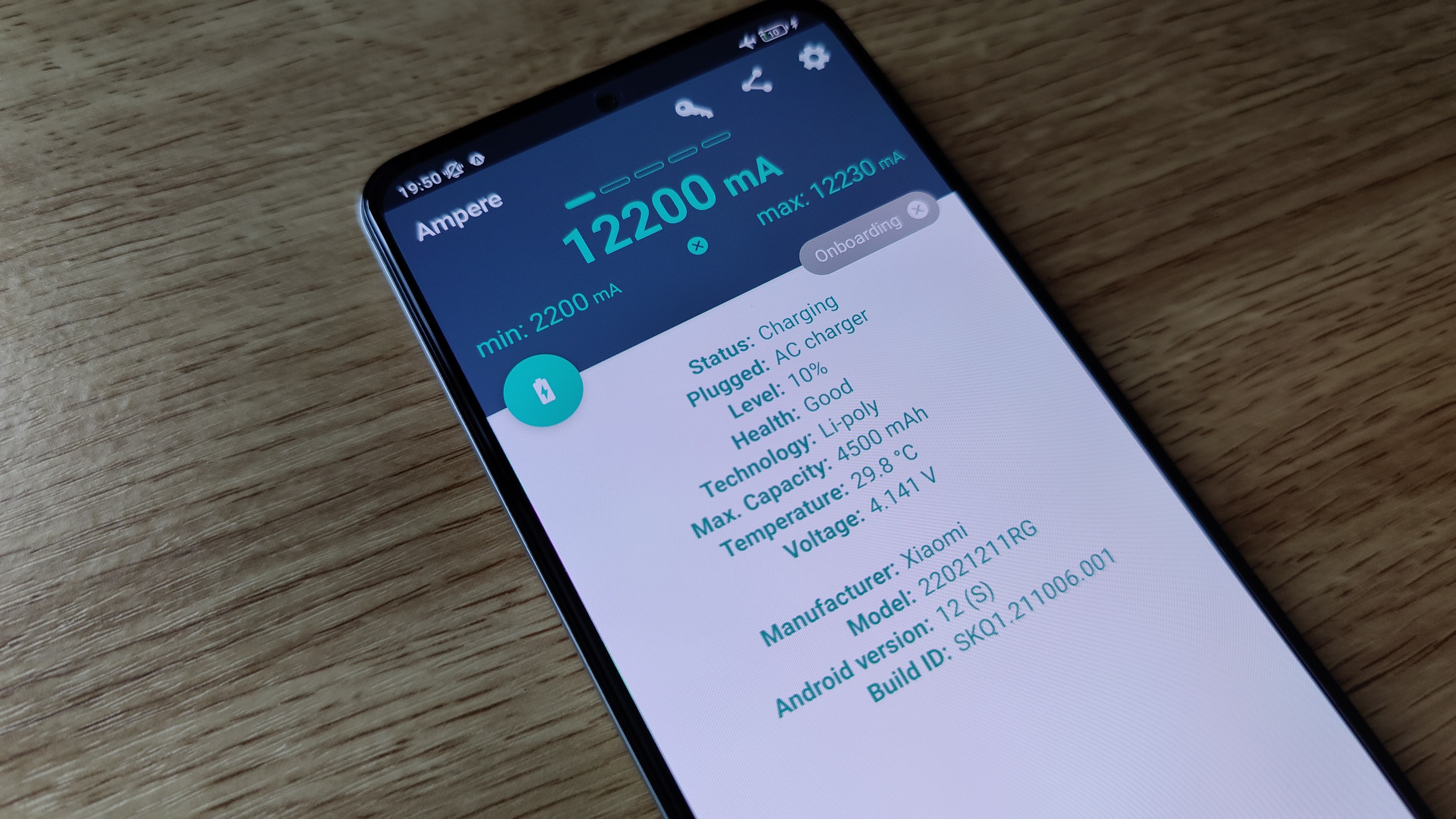 After 10 minutes charging, we were at 44% and temperatures reached 39.9ºC: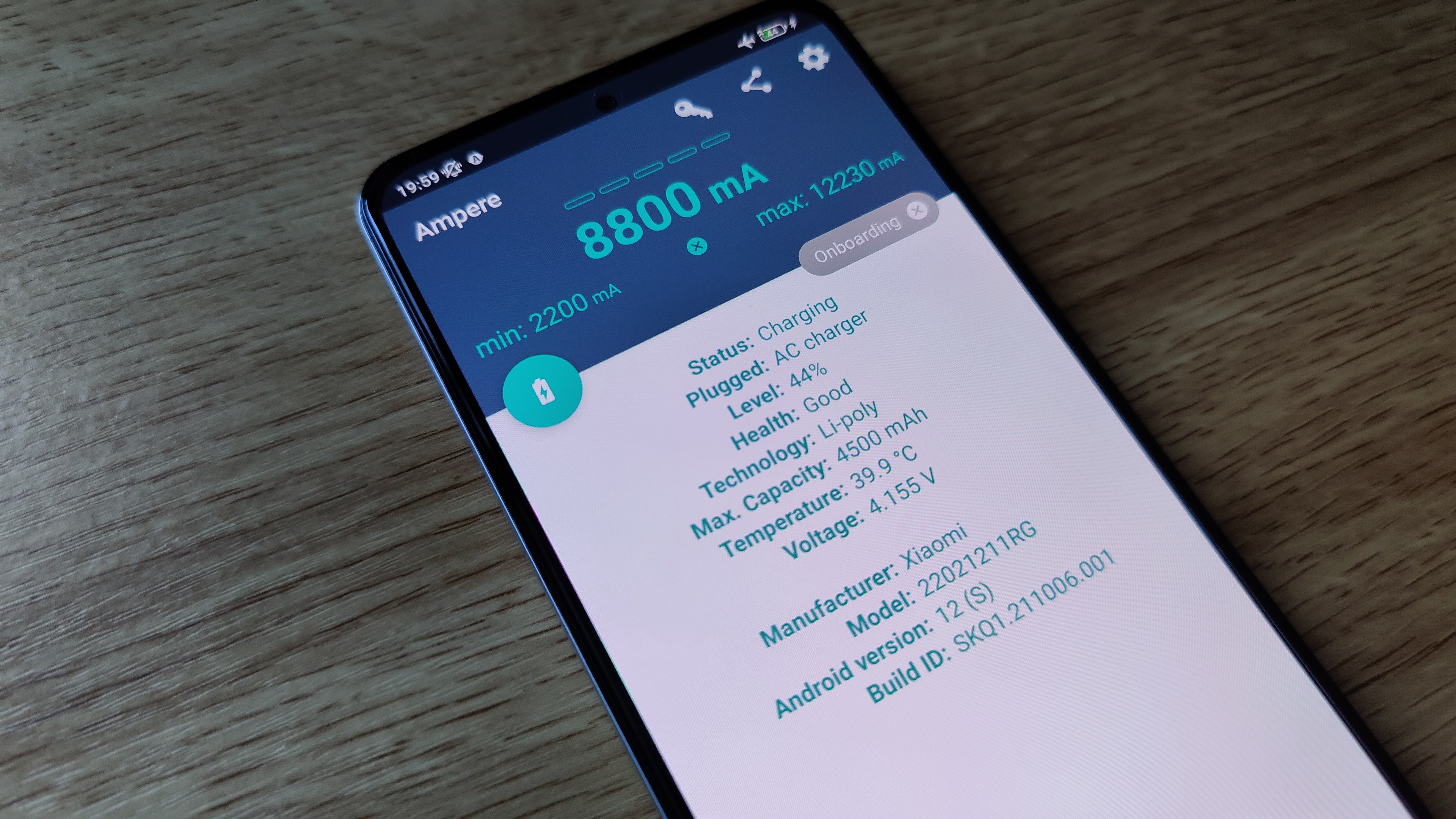 At 46% the battery temperature reached 40.1ºC and there was a big drop in speed. This lasted only a few seconds: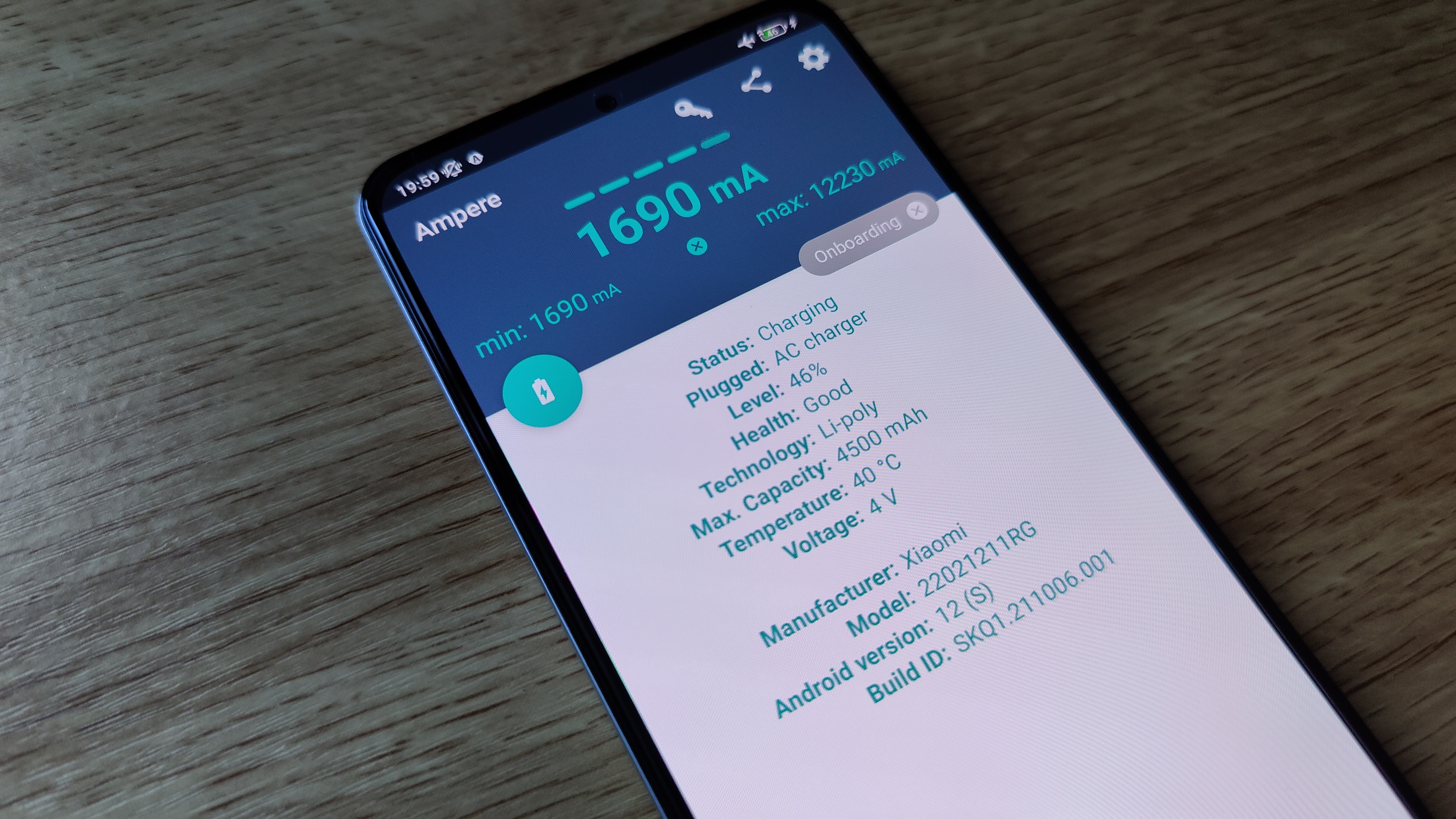 The speed increased and was capped at 4000 mA for the next 11 minutes. During this time the battery temperature was slowly dropping. At 63% and temperature at 36.1ºC: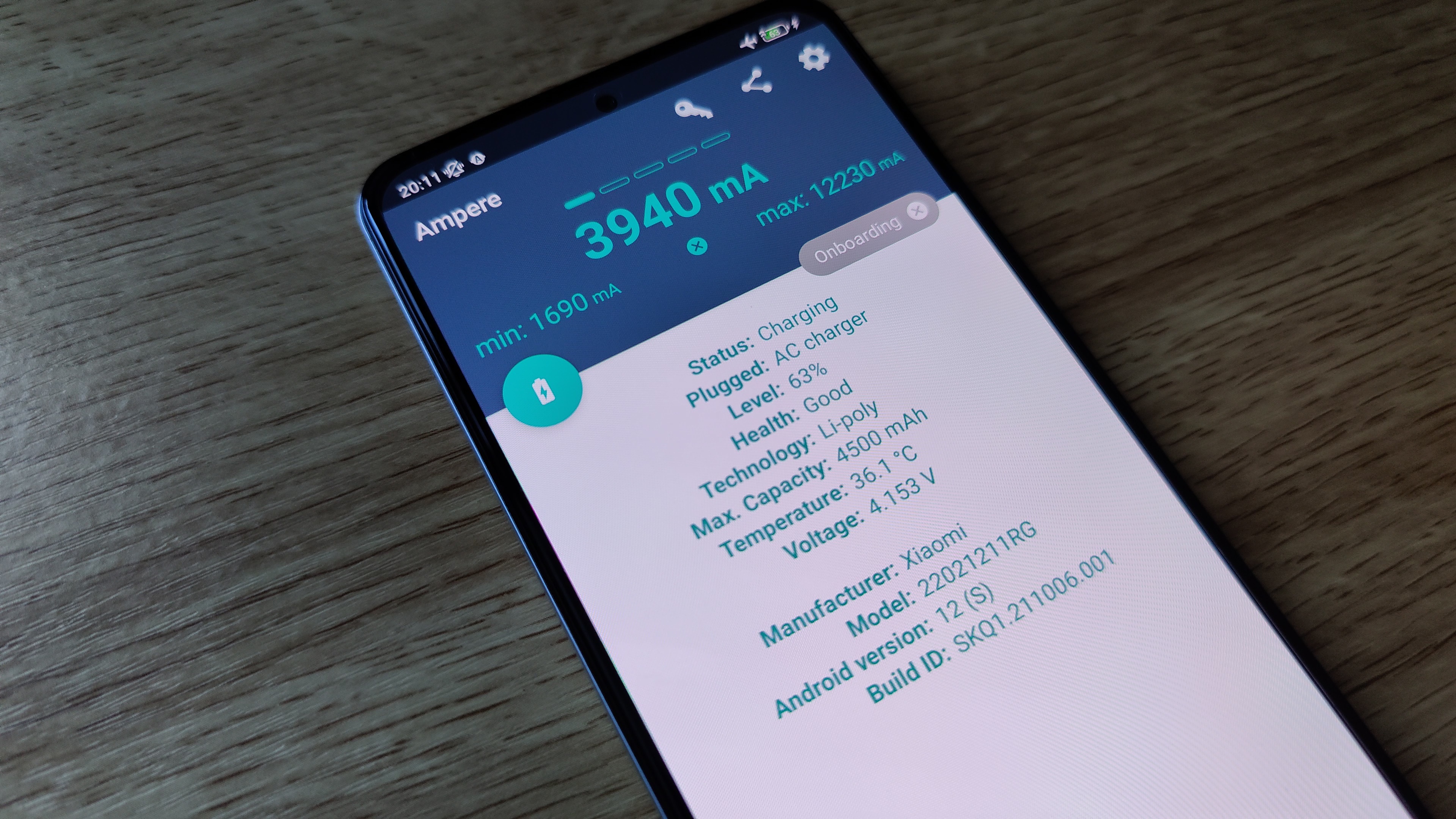 As soon the battery temperature reached 36ºC, speeds increased again, even though we were already at 66%: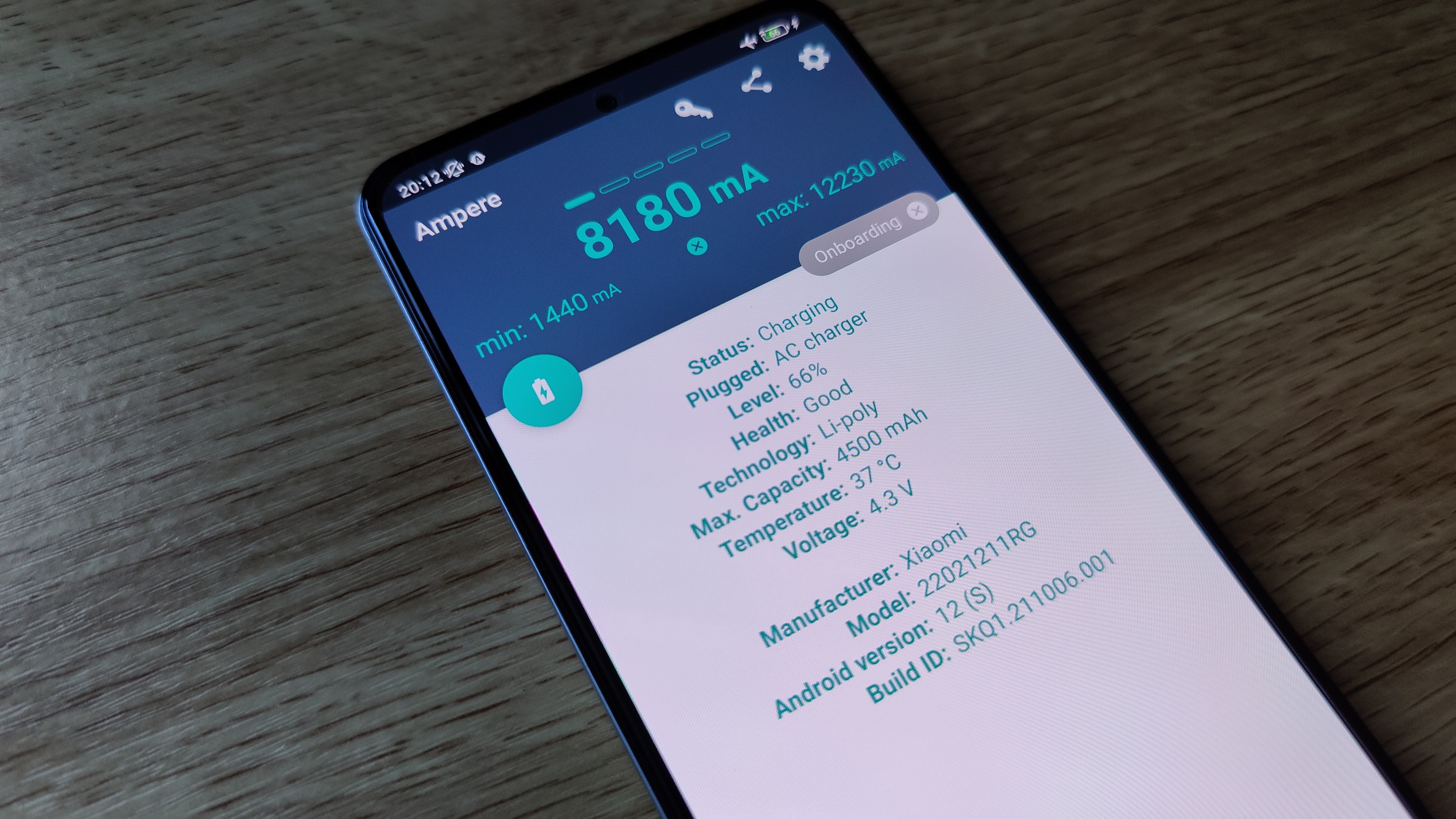 I was able to replicate this a few times, so I'm fairly sure that throttling happens every time the battery reaches 40ºC. Then speeds are reduced, allowing for the battery to cool down. Speeds only increase again when the temperature drops to 36ºC.
So while this phone is capable of fast charging speeds, it generates some heat, which then ends up limiting charging speeds. You're likely to reach the 40ºC limit sooner if you live in a hot country or play games while charging.
With this said, the drop in speed will be less noticeable if we start with a higher state of charge. For example, if I had started with 20%, the throttling would start around 60%, not at 45% like in this test.
(If you're really in a hurry and want top speeds all the way until the end, a simple fan pointed at the phone helps a lot.)
Personally I only plan to use this charger when I really need the speed. Not only do I use the same charger for different devices, but I doubt these high speeds and temperatures are good for the battery life in the long term.
Finally, USB-PD works, but the top speeds are nowhere close to the original charger. I did a quick test with my laptop's 100W charger and at 55% it delivered around 3000 mA, while the original charger/cable went up to 11420 mA. Quite a difference.
Fingerprint scanner
The power button also acts as the fingerprint scanner (or vice-versa). No real complaints here as it works well, but I would prefer if it was under the display or even on the rear as that's where my fingers usually are when I hold the phone.
When adding a fingerprint, the phone asked me if I wanted to add my face too. Unlike iPhones and other phones with better security, the F4 only uses the front camera to check your face, so it's probably not the safest unlock option available.
Speakers
For a phone in this price range and as someone that cares a bit about sound quality (I'm not audiophile though), I think it sounds good. It can be loud if you want it to and since both speakers are similar, if you happen to cover one of them, you can still hear the sound through the other. On some phones the top speaker is weak, which messes up the listening experience, but the F4 doesn't have that problem.
5G Support
Long story short, my internet connection at home is somewhat limited for my needs. It's enough most of the time, but sometimes I need to download or upload heavy files (50-200GB) and it takes a long time.
Early in 2022 I started looking at 5G and found a provider that offers unlimited plans. It costs half of what I pay for my home internet connection and depending on the location, I get speeds like these: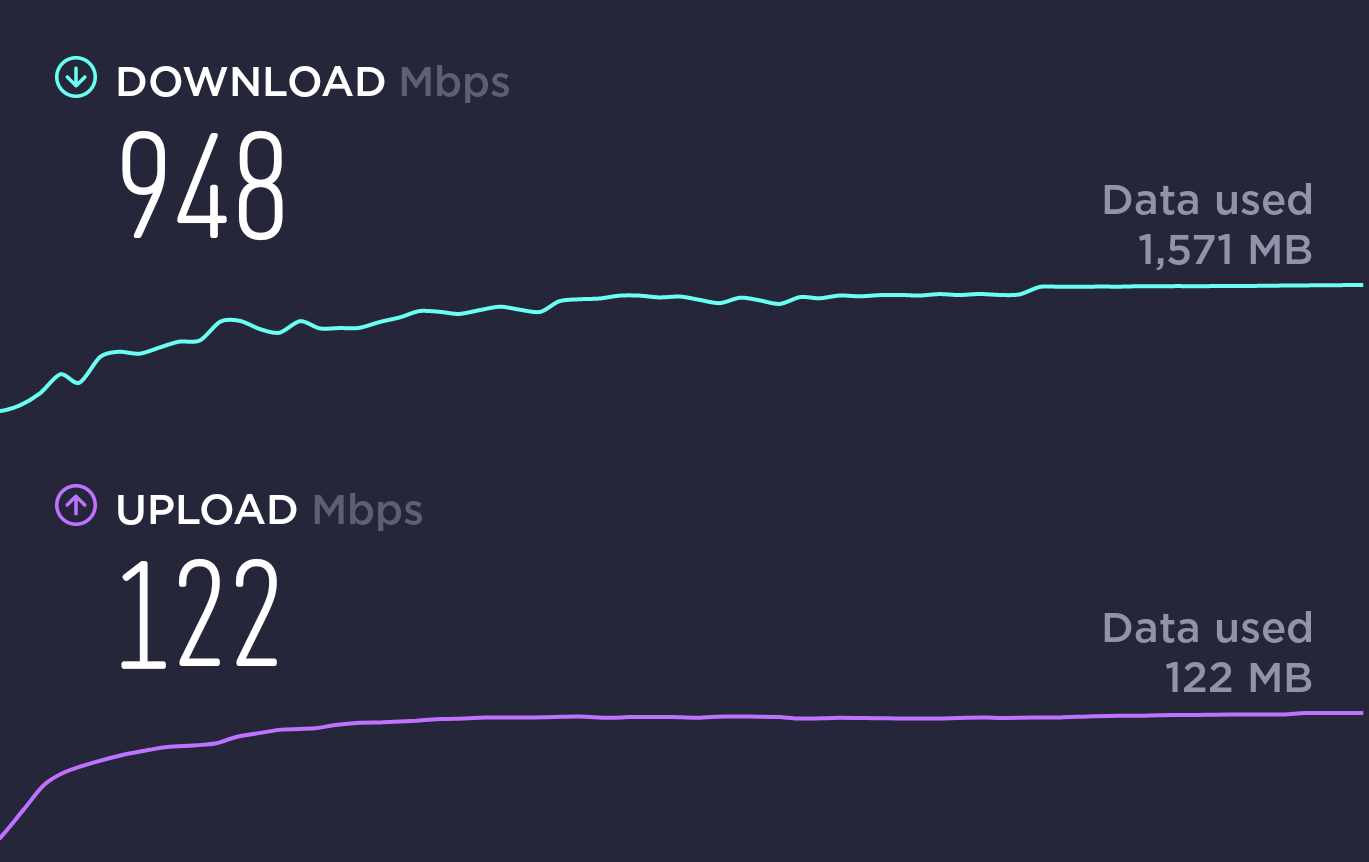 The latency isn't as good, but the download speeds compete with a 1Gbps connection and uploads are also much faster than what I have at home. If I'm in a hurry, all I have to do is take my phone and laptop, go to a place where the 5G signal is good and do whatever I have to do there.
The speed test above was done on my OnePlus 8 Pro, which has the same X55 modem as the Poco F4. Both perform similarly. Band support is good here in the UK and I never have trouble getting a signal, but because of the nature of the 5G we currently have (it's still a hybrid 5G [5G Non-Standalone / 5G NSA]), it won't perform as well as it could perform because it doesn't aggregate all bands available.
This is not a problem for 99% of people out there, but since I use the phone to get very fast internet, it matters to me. The network I use sometimes have two n78 carriers, but the phone only seems to use one. If two were used, the speeds could be faster (~1.5Gbps, looking at tests from other people). At home I could also benefit from aggregating different 4G bands and different 5G NR bands at the same time (depending on the network, a mix of the slower B20/B28 and faster B1/B3/B7/B32/B40 with 5G NR bands like n78 or n28).
Again, not something that should affect you, but newer Qualcomm modems would give me more.
Missing features
Compared to some other Xiaomi low/mid end devices (not the Poco F3), there are a few features missing. The "IR blaster" is here (I don't use it that much, but it's nice to be able to control a TV with your phone) and we still can use 2 SIM cards, but there is no SD card support or a headphone jack.
While internal storage is better in almost every aspect than external storage, it's nice to have the option to expand the storage in an easy and fairly cheap way. Seeing them dropping this is disappointing.
Regarding the headphone jack, I no longer use it because I have expensive headphones (they cost more than this device), but not everyone can do this. Very cheap bluetooth earphones still suck and some prefer wired solutions. While the device comes with an adapter, it's not sturdy and it wouldn't last very long on my hands.
FM radio is another "legacy" feature that isn't supported by this phone.
MIUI
I'm not a big MIUI fan. I don't really mind the UI, after all a different font, different icons, the iOS-like UI, etc, doesn't affect the way I use the device that much. I also don't mind the extra features. The problem for me are Xiaomi's "optimisations" that change the default Android behaviour and create a set of problems.
MIUI: optimisations
For example, when we open the recent apps screen, there's a button to close all apps. This comes from stock Android and I find it useful when multi tasking because I only want to have the apps I need open. However, unlike stock Android where it closes the apps on that list, MIUI closes them all, including background apps like VPNs, Syncthing, etc, that are supposed to be running. This can be "fixed" by locking the app, but then the app always stays on that list… clogging that screen with apps I don't want to see all the time.
Also related to background apps, it's how aggressive they are at terminating apps. Xiaomi: if I wanted an iPhone, I'd buy an iPhone. They're very aggressive, but at least they do things in a way that apps can receive notifications.
While we can work around this, the average user doesn't know how to do it and to be honest, even I don't want to deal with that. It's annoying.
This level of restrictions, the memory cleaners, the virus scanners (on a phone?), warnings about apps draining battery, etc, are not needed in markets where almost everyone only installs apps via the Play Store. Not to mention that these devices have big batteries and at least 6GB of RAM.
MIUI: performance
I experienced some UI lag on my previous two Xiaomi devices (Redmi Note 9S and Poco X3 NFC). While they're not powerful devices, I know this was caused by MIUI because using custom ROMs like LineageOS fixed the lag.
So far the experience with the F4 has been much better, but it's not as smooth as it could be. In this case we can't use the hardware as an excuse because the 870 is a powerful SoC.
Even with the display forced to run at 120Hz, I notice a few frame drops in the system animations from time to time. Sometimes moving between apps isn't as fast as it could be as there's a small delay to open the background app. Twice so far I had the home screen "loading" after being in an app for some time.
I don't think I'd talk about this if I was coming from a slower phone because it's not a big deal, but my daily driver is a OnePlus 8 Pro running LineageOS and with the display refresh rate set to 120Hz. I don't remember the last time I experienced UI lag! So when something lags just a little bit, I notice it.
MIUI: features
MIUI allows a certain degree of customisation, which is nice to have. From themes and wallpapers to different animations for the always On display and notifications, it's all there and easy to use. There are also things like the sidebar and floating windows, which can be useful.






But at the same time, some features that could be useful are missing. For example, a lot of owners will be using the original cable and charger for over night charging, but I can't find any setting to reduce the charging speed or to avoid staying hours at 100%. This is something that brands like Samsung, Sony, Asus, OnePlus, etc, have.
Instead we get a feature that tells you what can be done to improve battery life (on a phone with already good battery life) and that bugs you from time to time. Some of the suggestions don't even make sense… here the suggestion was to close an app that I asked the phone not to be restricted. Also, dark theme? On a bright sunny day?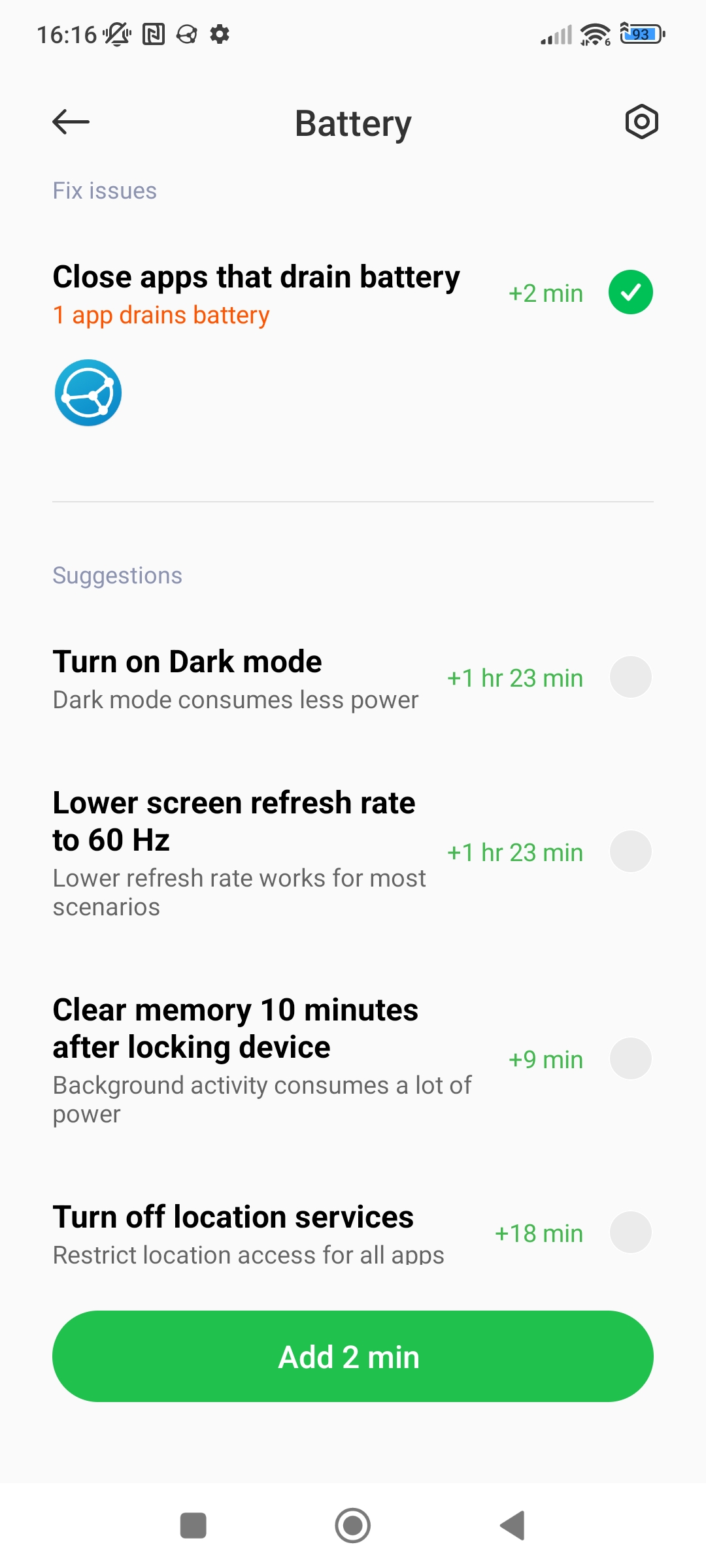 And then there's the cleaners and scanners. Even a very permissible OS like Windows no longer needs 3rd party scanners and anti-virus, but a restrictive OS like Android needs them? C'mon. And with 100GB of free space, do I really need to run a cleaner every day? And do I really need to be reminded about this (default option)?


MIUI: pre-installed bloatware
There are two different issues here. One is caused by MIUI while the other is just Xiaomi's business model.
I don't understand why MIUI blocks users from uninstalling or at least disabling some apps. And I'm not even talking about apps that are required for the system to work. YouTube, for example, can't be uninstalled or disabled with the UI (you'll need ADB for that).
Then we have the bloatware. I understand that this is one of the reasons why we pay less for their hardware, but bloatware is still bloatware (a little over 2GB in my case). I don't want Facebook, Joom, TikTok, Netflix, Agoda, Genshin Impact, etc… but at least they let you uninstall everything quickly: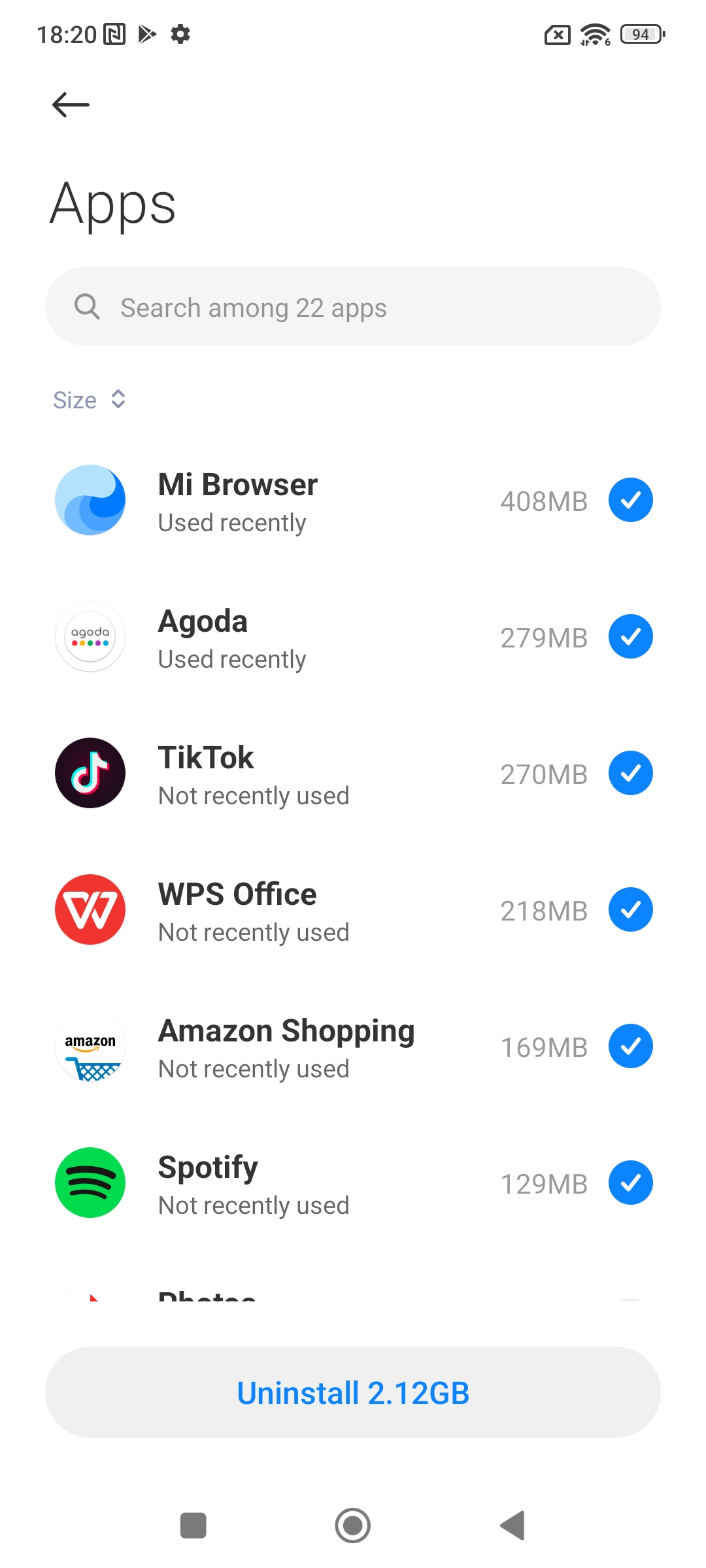 MIUI: terms and conditions
Most people don't care about this, but it bothers me. Almost every system app asks you to accept their terms and conditions. First, how many times do we have to agree to the same thing and second, why the heck does a basic app like the Clock need internet connection when everything can be done offline?






Installing a custom ROM
I used MIUI for a while because it takes a bit for custom ROMs to become stable. I usually go with LineageOS because it's simple and very stable for me, but so far there are no official builds, so I had to pick something else.
The first I tried was "Project Elixir", which immediately fixed any lags and looked very nice, but unfortunately had a wifi hotspot bug that locked the phone, so no good for me. Eventually I settled on ArrowOS and that's what I've been using since. It's very stock Android and lacks some interesting features, but I'll take this over MIUI any time. The battery life is great, GCam fixes the camera quality for me, Magisk deals with the SafetyNet, and the hotspot/wired ethernet option works very well.
Currently I have no plans to go back to MIUI.
Overall
I'm happy with my Poco F4. It works well as a backup phone/5G router, which is exactly why I bought it in the first place. Also, I didn't have to pay a lot for it, which is nice since even mid range devices are getting expensive.
Usually the slightly faster processor and a newer battery would make me use it as my main phone, but the cameras are simply not as good as the ones I have on my OnePlus 8 Pro. The main camera is okay, but the drop in quality is big as soon we switch to the others and I also find the telephoto camera to be more useful than a macro camera.
While I essentially bought the hardware and then replaced the software, I did it because of the multiple MIUI changes that annoy me. There was never a bug that stopped me from using the phone or something like that. If unlike me you find MIUI's optimizations to be useful, then you'll be fine. If you prefer custom ROMs, while not the device with most development, there are a few available over at XDA or on Telegram.
/end