Gcam-8.7.250.build-8.0Beta4Fix
By Arnova8G2 (Beta).
Download:
Changelog:
Beta 4 FIX (2023-03-25):
- Fix Bug in previous version
- Optimize Arn Sabre enhanced and add value( camera.sabre_arn_enhanced_value ) default : "clamp_edges=1,wrap_edges=2,radius=2.3,amount=0.5,multi_alpha=true,alpha=true"
- Add send bug issues in github
- Add Samsung package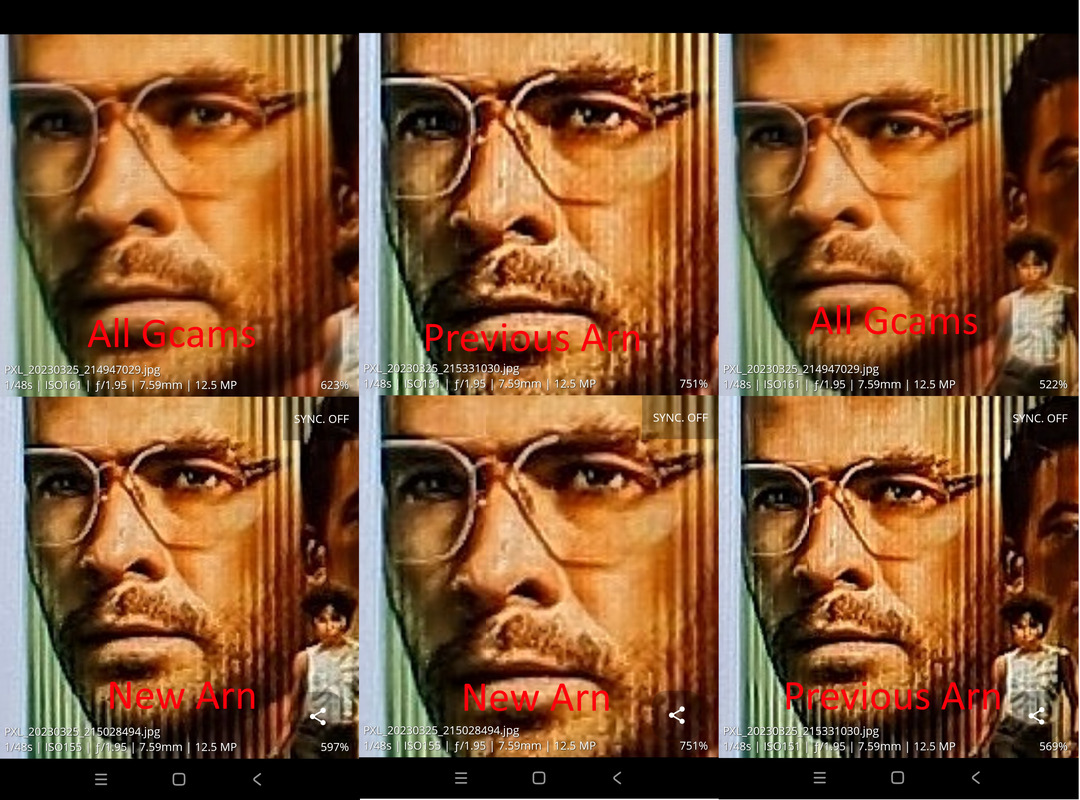 Beta 4:
For this beautiful new in version:
New image processing code "Arn Sabre Enhanced", code was worked to make image deblurring, but works differently final result is great, processing is long and requires a device with a lot of memory for multi capture. Other novelty a beautiful watermark on photo, city and date for good family memory.
Changes:
Fix Bug in previous version
Add AWB Button ( gcam.hdrplus_wb_use and manual value : 0.50195312,0.61718750,0.71582031,0.00000000,0.00000000 or use pixel1 to pixel6pro name )
Add 8K Button ( camcorder.8k )
Add Astro On button ( camera.cuttle.force_extended )
Add AUX Mod ( camera.aux_enabled_mod ) ( com.google.android.GoogleCamera package name work in Onplus )
Add Saturation fix ( api_colorSpaceTransfom )
Add ARN Sabre Enhanced ( camera.sabre_arn_enhanced ) ( continues code for an optimization of adjustment values)
Add Watermark ( camera.watermark_enabled ) ( only for hdrplus and night, works with motion photo activated )
Add Front cam indicator ( camera.front_lens_indicator_position : value is X/Y position ex Mi11U is 10,10 and size is camera.front_lens_trial_size for mi11U is -10 )
And lots of stability code
For me, this is a very nice version for quality of capture in hope to optimize processing code.
Checksums:
APK certificate fingerprints:
SHA-1: e0be67031a86c4178239256f80d631d94451e263
---
APK file name: arn.android.gcam
Gcam-8.7.250.build-8.0Beta4Fix.230325.2309.apk
APK file hashes:
MD5: 7bca4085464bb5ca8b9048dd2a5a6f8c
SHA-1: 7d0c8cbc66b0d8772c9d37d716304c951ad59b09
---
APK file name: com.google.android.GoogleCamera
Gcam-8.7.250.build-8.0Beta4Fix.230325.2313.apk
APK file hashes:
MD5: 90d37c7a3acce2c01a4a53a6e1e06169
SHA-1: aa3b96018eae02a8213d860c9516f3926c949c0b
---
APK file name: com.samsung.android.scan3d
Gcam-8.7.250.build-8.0Beta4Fix.230325.2318.apk

APK file hashes:
MD5: 245f1a19786a90bcc5e04d7429932c9f
SHA-1: dffdde2f5d4eca60d83fc0f9fb3496f909a9107d
Support and links:
---