Butchercam_v3.0_Urnyxbased.apk
By Metzger100.
Download:
Settings:
Version: 3.0
Goal: To build a nice Urnyxmod.
Changelog:
- Added Blacklevel-settings (Thanks to abhi)
- Changed the packagename to fix some crude stuff with safetynet-modules and make possible to install multiple GCams (Thanks to eszdman)
- Added Aux-Support for Poco X3 Pro
- Added XML for the XML-Buttons for Poco X3 Pro
- Added Tintfixoptions in Case you get green or purple tint (Thanks to abhi)
- Added Phone-Info-option
- Added OpMode-Info-option
- Fixed stuff for Poco X2
- Fixed Aperture settings for Phones that are not from Samsung
This Version is based on Urnyx Version 2.1.
If you have any trouble with it please tell me that in our Group: t.me/butchercam_group
If you have any XML's send them into the Group.
XML-Buttons:
XML's existing for:
-Realme 5 Pro (Thanks to Mrdill)
-Mi 9 T Pro/K20 Pro (Thanks to Roger)
-All other Phones use the XMLs made by Sony
-Poco X3 Pro
Add XML's:
To add XML's for your Phone some conditions must be met:
-All working Sensors have to be configured. Otherwise I won't add them.
-You have to make XML's for both Buttons.
-Enable the Phone-Info option in the Cam and restart the App. Please send me the Screenshot of the Toast on startup.
-Send me your XML's and that Screenshot.
XML's will be added in all Releases (Feature- and Fixreleases / X.0's and X.X's).
Links:
About:
For Users:
My Goal is it to support as many Devices as possible by making the Urnyx05-GCam highly configurable and using different Layouts for different Devices.
Butchercam-Urnyxbased is supporting mutiple Devices and I will do my very best to deliver good Imagequality for as many People as possible.
For Devs:
You can copy, share, modify and rebrand my Cam if you allow the same for your GCam. I try to make my Code as clean as possible for you!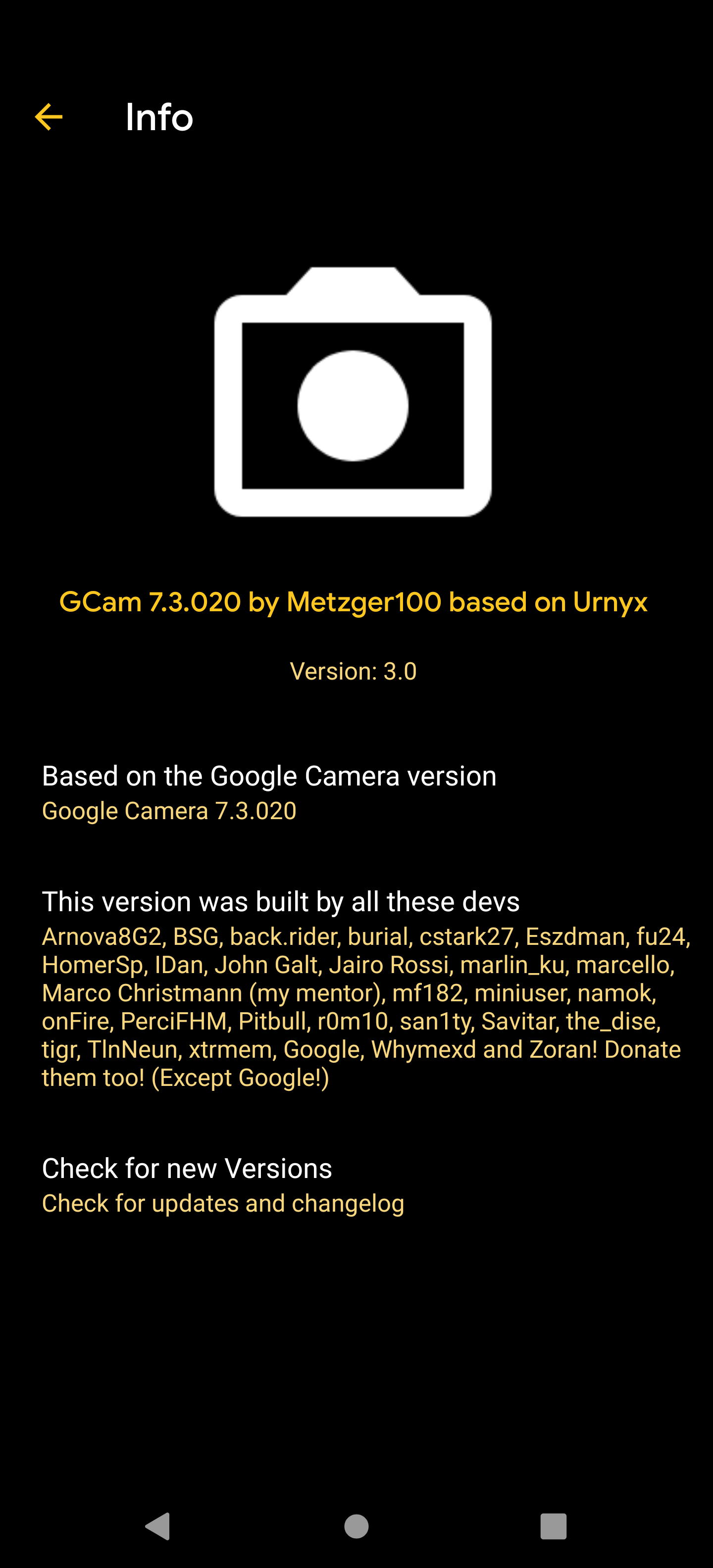 ---