With my sister going to university, we both agreed that it would nice to have a small fridge in the room she'll stay in. Something small and low noise with enough space to keep a drink (or something like that) cold.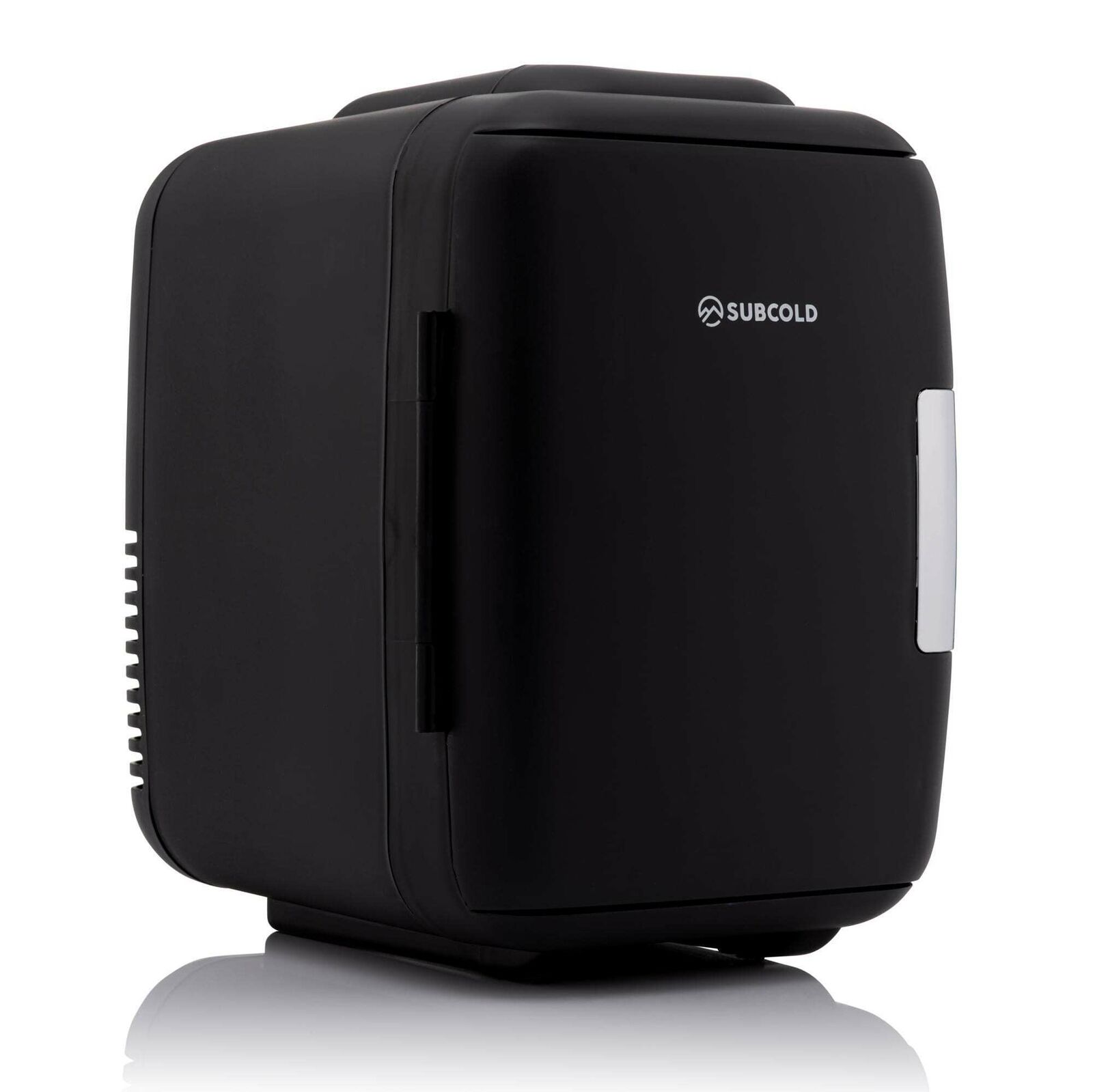 There are many options out there, from proper refrigerators with a lot of space, to very small ones where we can only fit a 33ml can. We ended up getting a Subcold Classic4, which has enough space to store 6 cans inside or "4 litres" of space and should be enough for what she'll use it for.
I should mention that there are other very similar mini fridges and that this isn't the cheapest one available. I paid £39 GBP on Amazon UK, (same price on eBay UK, but refurbished costs £30 on the brand's store) there's also the AstroAI Mini Fridge 4 Litre that currently costs £34. I didn't have time to wait for the delivery, but on Aliexpress we can find alternatives like the VEVOR 10L Mini Fridge which looks nice and costs £40 (also a little bit larger) or a very similar copy of the Subcold Classic4 for just £34, although I don't know if it works as well. Anyway, my point is, there are many similar products to choose from.
Among the reasons we picked the Subcold was its ability to cool and heat up. Another thing that caught my attention was the ability to run from a USB port. I wasn't sure about how well it would do on that mode, but it's nice to be able to run it with a powerbank. I think some of the others can also do this as long we have the cable, but they don't promote it or include the cable. They're usually sold as something that needs to be plugged into the wall or a car's 12v socket.
The fridge:
This thing is so simple that there isn't much to say about it, but a few points:
It's small. A quick, not very accurate measurement: 25cm long, 26cm tall, and 18cm wide.
Everything is made of plastic. Probably one of the reasons why it's so light.
The door is kept in place with magnets, so that bit that looks like a handle doesn't really do anything. To open the door, pull the side towards you.
The power cable is plugged at the back. There we'll also find a switch with 3 positions: cold, off, and hot. There are 3 "openings" for air flow (there's a fan inside).
At the top there's a handle to pick it up and 4 rubber feet in the bottom. That's it.
Inside there are two shelves. One on the door and one almost at the top of the fridge. Both are small (so is the fridge) and removable.
It doesn't seem to be very well insulated, but it works.
The fan is very quiet, but we can definitely hear it, especially when running at higher power/connected to the wall socket. USB mode is much quieter.
It runs continuously. No pauses after reaching a certain temperature (that I noticed).
This model comes with a USB-A cable and the wall adapter (UK in my case).
Regarding the noise, how audible it is will depend on what's around the fridge, how close we are to it, and if we're easily annoyed by these low noises or not. It's probably not something I'd want to have next to my bed, but it's probably fine a few meters away.
I'll just say that they probably could have done better. The fan seems to be similar to what we can find on a computer tower and those can be pretty quiet. I'm not going to upgrade it, but yeah, it could be better.